business
Pound Reaches Seven-Week High as Inflation Unexpectedly Quickens
Eshe Nelson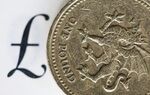 The pound climbed to a seven-week high against the dollar after U.K. inflation unexpectedly accelerated last month, prompting traders to push forward wagers on an interest-rate increase by the Bank of England.
Sterling strengthened versus all of its 31 major peers, and jumped the most in more than a month against the euro, as a core measure of price growth jumped to the highest since February. Forward contracts based on the sterling overnight index average, or Sonia, signal a 25 basis-point increase in the benchmark interest rate next July from 0.5 percent, compared with August 2016 on Monday. U.K. government bonds declined.
"These numbers make it a little more likely that the hawks will be more vocal as we get to the end of the year, even if they don't decide to raise rates," said Stuart Bennett, London-based head of Group-of-10 currency strategy at Banco Santander SA. "The knee-jerk reaction is pound goes higher."
Sterling climbed 0.5 percent to $1.5664 as of 4:18 p.m. London time, after earlier rising to $1.5717, the highest since July 1. The pound strengthened 0.9 percent to 70.41 pence per euro, the biggest gain since July 13.
The Office for National Statistics said annual inflation quickened to 0.1 percent, compared with a median forecast of an unchanged reading of zero in a Bloomberg survey of economists. Annual core inflation, which excludes volatile food and energy costs, accelerated to 1.2 percent, from 0.8 percent in June, and higher than the 0.9 percent predicted by economists.
Gilts Slide
Benchmark 10-year gilt yields rose five basis points, or 0.05 percentage point, to 1.87 percent. The 5 percent security due in March 2025 fell 0.555, or 5.55 pounds per 1,000-pound face amount, to 127.245.
Slowing consumer-price growth has discouraged Bank of England policy makers from raising interest rates for the first time since 2007, with the annual inflation rate slipping below zero in April for the first time in more than half a century.
While bond trading indicates that the longer-term outlook for consumer-price growth is still subdued, policy maker Kristin Forbes, who hasn't voted for higher borrowing costs, warned Aug. 16 that keeping record-low rates for too long could harm the economic recovery.
The 10-year break-even rate, a gauge of market inflation expectations derived from yield difference between gilts and index-linked securities, increased one basis point to 2.58 percentage points, having fallen to 2.57 percentage points on Monday, the lowest since April 2 based on closing prices.
Before it's here, it's on the Bloomberg Terminal.
LEARN MORE