Pop Quiz: How Well Do You Know Donald Trump?
These 15 questions will test your depth of knowledge about the billionaire Republican presidential candidate.
By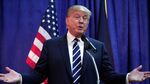 Though he's been a near-constant fixture on television screens, websites, and newsstands over the past several decades, Donald Trump remains best known to most Americans for his reality television catch-phrase, "You're fired!"
Now that he has vaulted to the top of the Republican presidential primary field, Trump's views and personal history are starting to come into focus.
Still, many of Trump's political supporters have professed that they are in the dark about some of the specifics regarding his candidacy, as well as his background. 
Are you among them? Here is a quiz to test your knowledge of the man they call "The Donald."