politics
Pennsylvania Congressman Fattah Pleads Not Guilty to Fraud
Sophia Pearson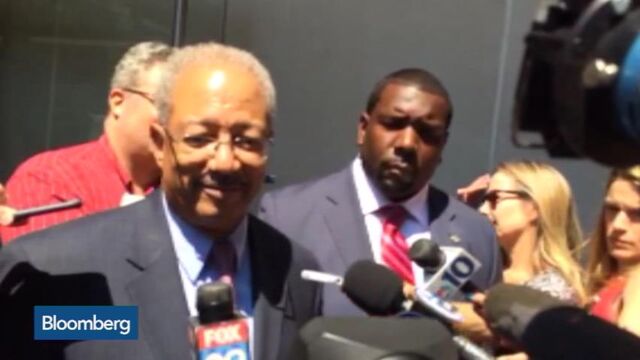 Representative Chaka Fattah of Pennsylvania pleaded not guilty to charges he used charitable and federal grant money to pay off part of a $1 million loan and campaign funds to repay his son's student debt.
Fattah said following his first court appearance in Philadelphia that he plans to seek re-election next year for a 12th term, leaving the legal wranglings to his attorneys.
"The contract that I have with my community, the warranty is still good," Fattah told reporters. "I'm going to never do anything that would embarrass them."
The congressman temporarily stepped down last month as the top Democrat on the House Commerce, Justice, Science and Related Agencies appropriations subcommittee after he was indicted by a grand jury for allegedly trying to steal hundreds of thousands of dollars of charitable and federal grant money to pay off debts for a failed mayoralty campaign.
Fattah made several statements out of turn during Tuesday's court hearing.
"I'd like to say I'm not guilty," Fattah told U.S. Magistrate Judge Timothy Rice, before the charges were even read.
He was released on $100,000 bail, and told he must surrender his personal passport. He may travel on government business on his diplomatic passport, the judge said.
Racketeering Conspiracy
Fattah was charged July 29 in a 29-count criminal indictment accusing him of orchestrating a racketeering conspiracy going back almost a decade. Four of the congressman's associates, including lobbyist Herbert Vederman, were also charged with multiple counts of mail fraud, conspiracy to commit mail, wire and honest-services fraud and money laundering.
The congressman is accused of borrowing $1 million from a supporter, disguising the funds as a loan to a consulting company, and using some of them to fund his 2007 campaign for mayor of Philadelphia.
After he lost the election, Fattah returned $400,000 to the donor and funneled charitable and federal grant money through a non-profit entity he founded to pay off the rest, the government said.
In an Aug. 17 letter to two House Committees, Fattah requested that evidence related to the criminal case be preserved to ensure there's no prosecutorial misconduct. The letter references past "illegal investigations" of members of both the House and Senate.
The case is U.S. v. Fattah Sr., 15-cr-00346, U.S. District Court, Eastern District of Pennsylvania (Philadelphia).
(Updates with Fattah statement in second paragraph.)
Before it's here, it's on the Bloomberg Terminal.
LEARN MORE