pursuits
Nationwide Says Osborne Tax May Stop $15.6 Billion of Lending
Richard Partington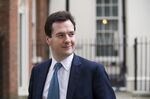 Nationwide Building Society, Britain's second-largest mortgage lender, said tax changes pledged by Chancellor of the Exchequer George Osborne could prevent the firm from lending about 10 billion pounds ($15.6 billion).
Osborne's plan for a corporate tax surcharge, while gradually scrapping a bank levy, will cost Nationwide 300 million pounds over five years, the customer-owned lender said in a statement Tuesday. That's "equivalent to the capital required to support about 10 billion pounds of lending," it said.
Nationwide is joining a chorus of smaller British lenders opposing Osborne's tax changes, pledged last month as banks including HSBC Holdings Plc consider leaving London because of the costs of the original levy. Banco de Sabadell SA's TSB consumer unit has asked for smaller banks to be exempt from the surcharge, while Virgin Money Holdings (UK) Plc has said it may delay returns.
Although positive for larger banks, the changes "will have a disproportionate effect on building societies such as Nationwide," Chief Executive Officer Graham Beale said in the statement. The government could have chosen instead to "recognize the contribution Nationwide and other mutuals make by lending to the U.K. economy, and the housing market in particular."
Under Osborne's plans announced in his budget, banks with a pretax profit of at least 25 million pounds will face a surcharge of 8 percent on top of their corporate tax from next year. The original levy will be reduced over six years and limited to domestic balance sheets.
Standard Chartered Plc CEO Bill Winters said earlier this month a review of headquarters is "not a top priority for us right now" after the tax changes. "The domicile is something that of course one always considers, but we were very happy with the publication of the budget a few weeks back. That took one of the big issues off the table."
Nationwide, based in Swindon, England, said gross mortgage lending for the three months through June rose 17 percent to 6.8 billion pounds, from the year-earlier period.
Before it's here, it's on the Bloomberg Terminal.
LEARN MORE