markets
Carney's Super Thursday Gets the Thumbs Up From Economists
By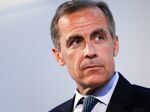 Bank of England Governor Mark Carney took quite a risk when he decided to overhaul the central bank's nearly 20-year-old communication strategy earlier this month. The gamble paid off, at least according economists.
Eighty-nine percent of economists preferred the so-called Super Thursday approach debuted on Aug. 6, when the BOE released its Monetary Policy Committee's latest interest-rate decision, individual policymakers' votes as well as the quarterly Inflation Report simultaneously. Previously, such releases were spread over two weeks. The Bloomberg survey of 27 economists was conducted Aug. 7-14.

The same number of respondents said that no key information was lost in the Super Thursday torrent. Despite agreeing with that sentiment, Peter Dixon, a global economist at Commerzbank AG in London, cautions that the new system is far from a perfect one.
"Whilst I don't think information got lost in the deluge," Dixon said, "I believe there is a risk that the importance of the Inflation Report to financial markets will be diminished as they focus on the minutes. This is a shame because it contains a lot of useful insight."
Before it's here, it's on the Bloomberg Terminal.
LEARN MORE