Bond Market Has a Message for Companies Seeking M&A Debt: Pay Up
by and
Higher borrowing costs await $95 billion deal pipeline

With Fed nearing rate liftoff, end to ultra-cheap credit?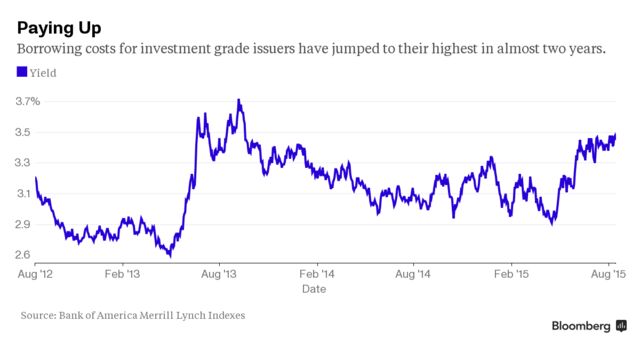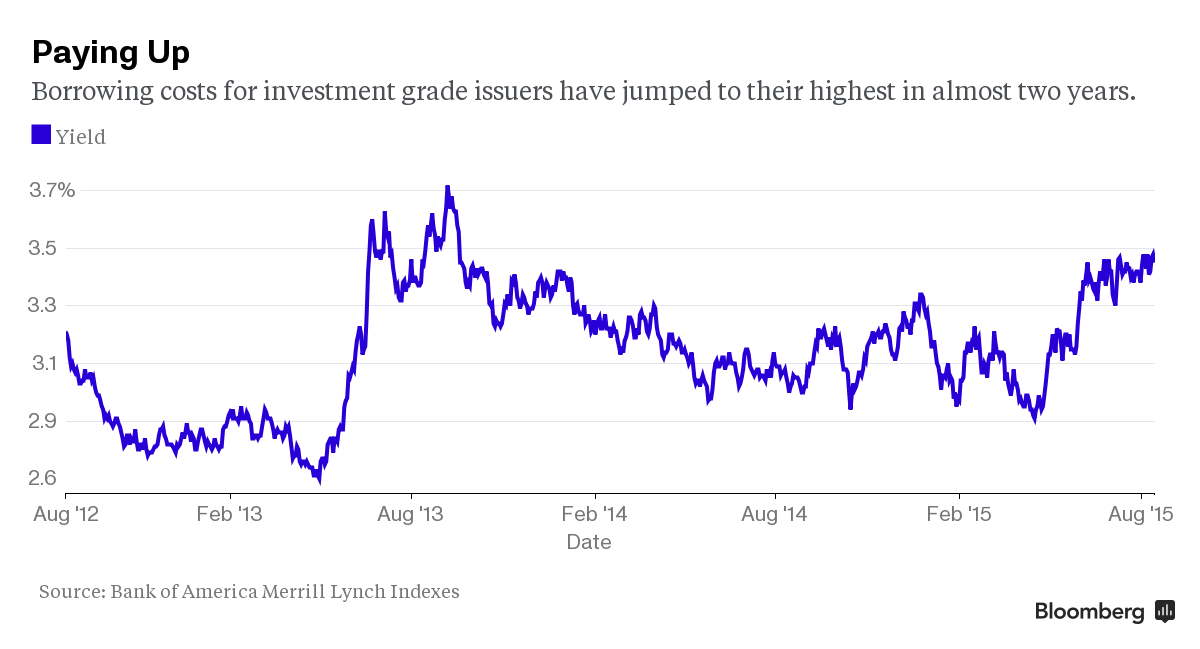 Bond investors helping to underpin a record year for mergers and acquisitions have a message for borrowers with plans to fund another $95 billion in deals: you'll have to pay up.
From Charter Communications Inc.'s $55.1 billion takeover of Time Warner Cable Inc. to Warren Buffett's $46 billion purchase of Kraft Foods Group Inc., investors have already purchased $189 billion of bonds backing takeovers this year, according to Barclays Plc. With more bonds on the way to fund deals such as Halliburton Co.'s $34.6 billion acquisition of Baker Hughes Inc. and Pfizer Inc.'s $17 billion buyout of Hospira Inc., debt buyers are showing signs of indigestion.
Top-ranking companies borrowing to finance takeovers are paying a little more than other investment-grade issuers, whose borrowing costs have spiked to a two-year high. And with the Federal Reserve getting closer to lifting interest rates for the first time in almost a decade, investors are warning the days of ultra-cheap credit backing a booming mergers market are nearing an end.
"There's been a ton of issuance, with a ton more issuance yet to come -- why would anyone want to step out in front of that without being paid adequately?" said Matthew Duch, a money manager in Bethesda, Maryland, at Calvert Investments, which oversees more than $13 billion in assets.
Record Action
At $1.2 trillion, M&A volume in the U.S. is on track for a record year, according to data compiled by Bloomberg. The acquisitions have been the driving force behind a record pace $925 billion of investment-grade debt issuance, with roughly $95 billion more bonds in line to be sold this year to finance takeovers, according to Barclays estimates.
The additional supply is one reason investors are demanding 1.64 percentage points above benchmark government rates to own investment-grade notes, the highest since July 2013, Bank of America Merrill Lynch index data show.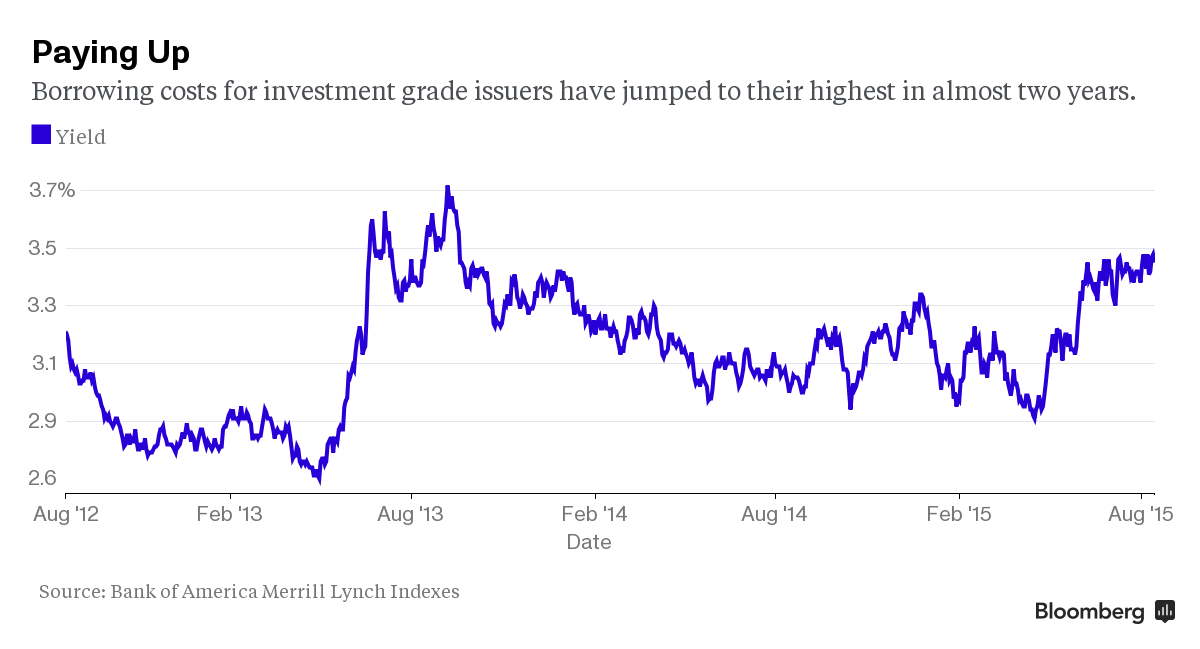 Investors have been happy to feed the boom, submitting orders for 3.8 times the amount of M&A bonds offered on average, compared with three times for non-M&A deals, Barclays analysts led by Jeffrey Meli wrote in an Aug. 14 note to clients. In return, they've demanded a slightly higher average yield.
Borrowers for M&A-related bond sales paid 0.01 percentage point more than other new issues, with some sales commanding higher concessions. To finance part of its purchase of Time Warner Cable, Charter Communications raised $12 billion, paying about 0.30 percentage point more for a $4.5 billion portion of 10-year notes, according to data compiled by Bloomberg and Bank of America Merill Lynch Indexes. The longest part of the offering, $500 million 30-year debt, sold at almost 1 percentage point more than comparable debt.
"Issuers are being forced to offer more and more concessions," said Scott Minerd, who oversees $240 billion as the global chief investment officer at New York-based Guggenheim Partners LLC. "There is no urgency to run out and buy anything in the credit space."
Premium Demanded
That means more expensive funding costs for borrowers including Halliburton and Pfizer, which joined a rush by U.S. companies to buy up rivals in a bid to boost earnings amid a tepid economic recovery. In the second quarter, earnings at U.S. investment-grade companies fell by 3.3 percent compared with a year ago, as revenue declined 4.1 percent, according to Bank of America Corp.
Late last year, Halliburton, the second-biggest oilfield-services provider, agreed to buy No. 3 Baker Hughes in the largest takeover of a U.S. energy company in three years. Pfizer agreed to buy injectable drugs provider Hospira in February. Since then, the extra yield investors demand to own investment-grade debt instead of government bonds has risen 0.15 percentage point.
Still, in a seventh year of the Fed's near zero interest rates, overall borrowing costs for corporates remain near the record low of 2.65 percent reached in 2013.
"Our view is that market conditions will not be favorable for issuers because the Fed is going to hike rates -- but if we are wrong, and markets are really stable, then spreads go wider as well because supply continues," said Hans Mikkelsen, head of U.S. investment-grade credit strategy at Bank of America. "Whichever way you look at it, costs are going to rise for borrowers."
Before it's here, it's on the Bloomberg Terminal.
LEARN MORE