France's Deezer Said to Seek Funds at $1 Billion Valuation
Ruth David, Marie Mawad and Amy Thomson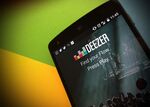 Deezer is seeking funds from investors in a transaction that could value the French music-streaming service at about 1 billion euros ($1.1 billion), according to people familiar with the matter.
Deezer could raise capital through a private placement or an initial public offering, said the people, asking not to be identified because the process is at an early stage and the valuation target may change. A Deezer spokesman declined to comment on funding plans.
Started in 2007, Deezer has 16 million active monthly users and 6 million paying subscribers, according to the company's website. That compares with more than 75 million active users and over 20 million subscribers for Spotify Ltd., the Swedish rival that was said to be valued at $8.5 billion in its most recent financing round.
For years, Deezer has avoided head-to-head competition with Spotify by holding off in the U.S. and focusing instead on expanding in Europe and emerging markets like Africa. The company has teamed up with phone companies to sell its premium subscriptions coupled with mobile-phone packages and, when it did launch in the U.S. about a year ago, it partnered with speaker-maker Sonos Inc. and later with Bose Corp.
Competition in the music-streaming market has intensified after Apple Inc. introduced its offering in June. Other than Apple and Spotify, Deezer also competes with Pandora Media Inc.
Access Industries
Deezer's most recent round of funding was completed in 2012, when the company raised 100 million euros from billionaire Leonard Blavatnik's Access Industries and Idinvest Partners, according to its website. Other current shareholders include ProSiebenSat.1 Media SE of Germany and French phone company Orange SA.
Deezer is among a growing list of French technology companies that are seeking funds. Comuto SA's BlaBlaCar, a carpool platform that connects drivers with passengers, was speaking to investors for new financing that would value the company at more than $1 billion, people familiar with the plans said in June. Criteo SA, the Web advertising company that held its IPO on the Nasdaq Stock Market in October 2013, has risen about 50 percent for a valuation of $2.9 billion.