Obama Shifts Heroin Emphasis as Overdose Deaths Skyrocket
Angela Greiling Keane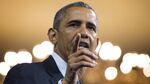 The Obama administration plans a shake-up in the war on drugs by combining public health resources with law enforcement to combat the spread of heroin, which is killing about 23 Americans a day.
The U.S. Office of National Drug Control Policy on Monday said it will spend $13.4 million on a program targeting "high-intensity drug trafficking areas," especially in New England and Appalachia, the northeast corridor between New York and Washington, D.C., and on the southern U.S. border. The plan will provide money for police to better plot drug trafficking routes and for public health agencies and paramedics to stem overdose deaths.
"What has been challenging has been the dramatic increase in both heroin use and heroin overdoses that we have seen in many parts of the country," Michael Botticelli, director of national drug control policy, said on a conference call with reporters. "This kind of partnership between law enforcement and public health agencies is the core of our approach nationally."
Heroin overdose deaths more than tripled from 2010 to 2013, according to the Centers for Disease Control and Prevention, after Oxycontin, a widely prescribed prescription painkiller, was reformulated to make it harder to abuse.
Sentencing Rules
The new approach to confront the spike in heroin use comes as President Barack Obama is urging Congress to lower or eliminate mandatory minimum sentences to cut prison terms for people convicted of non-violent, drug-related offenses, including some involving heroin.
Proposals to revamp sentencing laws and loosen federal restrictions on treatment for people addicted to opioids have drawn bipartisan support in Congress.
"The heroin epidemic has caused great concern among law enforcement," Scott Thomson, chief of the Camden County Police Department in New Jersey, said on the call. " It's important for law enforcement to be able to address this from more than a law enforcement perspective. We cannot arrest our way out of this problem."
In 2013, more than 8,200 people died of heroin overdoses in the U.S. The drug can be smoked or injected and is notoriously addictive. The Northeast and Midwest have seen the largest increases in deaths, according to the CDC.
The $13.4 million announced Monday includes $5 million to reduce trafficking, distribution and use of heroin.