Ferraris Lead the Pack at $390 Million Pebble Beach Car Auctions
Katya Kazakina
Ferrari led the pack again.
The Italian sports cars accounted for seven of the top 10 sales at auctions in California that fetched $390.6 million.
The sales were part of a six-day auto extravaganza that ended Sunday in the coastal towns of Carmel and Monterey and at the Pebble Beach golf course. The preliminary tally fell short of $402.6 million in equivalent sales last year, according to Hagerty, a Traverse City, Michigan-based insurer and classic car database that tracks auction results.
Prices for classic cars are leveling off following a period of record sales driven by expanding global wealth. While demand for Ferraris is still strong, even these cars felt the pinch. The top lot this year was a $17.6 million Ferrari, compared with 2014, when a Ferrari 250 GTO Berlinetta fetched $38.1 million, a record for a car sold at auction globally.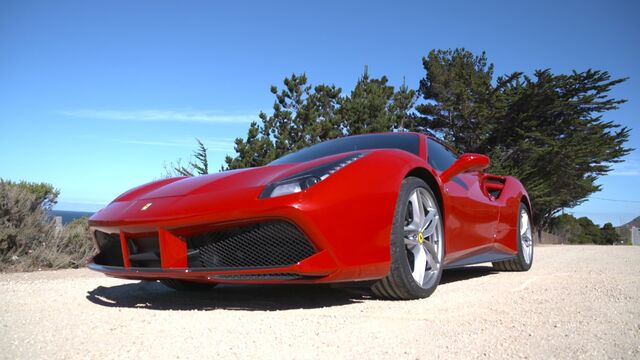 This year, 128 Ferraris were offered -- the largest number ever at classic car auctions -- and 25 percent didn't sell, according to Hagerty. The totals provided by Hagerty include post-auctions' private sales but exclude sales at a smaller company, Rick Cole.
"Buyers are highly selective, even if it's a new buyer with all the money in the world," said McKeel Hagerty, chief executive officer of Hagerty. "Overpaying for a car can be embarrassing later."
RM Sotheby's sold the week's top lot: a red 1964 Ferrari 250 LM, one of 32 of its kind, for $17.6 million, a record for the model.
Private Collection
The car was part of a private collection of 25 automobiles that included other Ferraris, Lamborghinis and Bugattis. The group took $75.4 million, setting a record for a private collection sold during a single-day auction. The previous $66 million record for the category was set last year at Bonhams.
An orange 1998 McLaren F1 sports car sold for $13.8 million. A 2005 Ferrari Enzo, built as a gift for Pope John Paul II, fetched $6.1 million.
RM Sotheby's said it tallied $172.7 million during the week, including post-auction private sales. The biggest disappointment was a yellow 1960 Ferrari 250 GT SWB Berlinetta Competizione which was estimated at $17 million and failed to meet its reserve price. The car didn't sell privately as of Sunday, according to an RM Sotheby's spokeswoman.
In Demand
A red Ferrari led the sales at each of the three major auction houses.
"Ferraris are like Patek Philippe watches," said Doug Wolford, chief executive officer of Convergent Wealth Advisors, a Potomac, Maryland-based wealth management firm with $6 billion in assets under management. "There will always be people who want them."
A red 1961 Ferrari 250 GT SWB California Spider -- one of only 37 of its kind -- fetched $16.8 million at Gooding & Co. on Sunday, within the estimated range. Gooding said it sold $128.1 million of cars.
Bonhams sold a 1959 Ferrari 250 GT Competizione Alloy Berlinetta, a sports car that placed third at the 1959 Tour de France car race, for $8.5 million. It had an estimate of $9 million to $12 million. Bonhams said its sales totaled $46.7 million.
Fiat, Jaguar
Ferraris weren't the only popular cars on the block. A 1956 Fiat Eden Roc, which was designed to drive people from a house to a beach, hammered for $660,000. With no doors and no roof, the sleek, cream-colored vehicle resembles a boat on wheels. One of only two made, it has mahogany bumpers and a wraparound rear seat. The car ferried three pretty, young women as it entered the saleroom for its auction debut.
Another Fiat -- a 1953 green-blue Fiat 8V Supersonic that had the same owner for 36 years -- sold at Bonhams for $1.8 million, matching its low estimate. A 1953 Jaguar C-Type Works lightweight roadster fetched $13.2 million at RM Sotheby's, a record for the model.
By the end of Sunday, six auction houses sold 803 of the offered 1,386 lots, representing a 58 percent sell-through rate and average sale price of $479,557. That's a decline from last year's average of $540,366 and 61 percent sell-through rate, according to Hagerty.
Before it's here, it's on the Bloomberg Terminal.
LEARN MORE