business
Dallas Fed Names Harvard Professor Robert Kaplan as Next President
Jeanna Smialek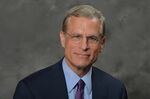 The Federal Reserve Bank of Dallas named Robert Steven Kaplan, a former Goldman Sachs Group Inc. executive who left to teach at Harvard in 2006, as its new president.
Kaplan, 58, will take his post Sept. 8, the Dallas Fed said Monday in a press release. He will succeed Richard Fisher, who was president from April 2005 to March 2015. Helen Holcomb, the Dallas Fed's first vice president, has served as interim head since Fisher retired.
The new president, who won't vote on policy until 2017, will join the Fed at a pivotal time, just eight days before the meeting at which most economists expect the central bank to begin raise interest rates. Officials are weighing when and how quickly to tighten policy after leaving rates near zero since 2008.
Kaplan is a professor of management practice and a senior associate dean at Harvard Business School. Before joining Harvard, he spent 22 years at Goldman Sachs and was vice chairman in charge of investment banking when he departed.
"This is a guy who understands finance, understands business, is a remarkable leader -- an inspirational leader," said former Treasury Secretary Henry Paulson, who worked with Kaplan at Goldman Sachs. The firm's former chief U.S. economist, William C. Dudley, currently heads the New York Fed.
Views Unknown
Kaplan's views on monetary policy are "largely unknown," JPMorgan Chase & Co. economist Daniel Silver wrote in a note to clients following the announcement. Because the Dallas Fed doesn't have a vote this year, the appointment doesn't have immediate monetary-policy implications, he said.
Kaplan serves on the board of Heidrick & Struggles International Inc., the Chicago-based firm hired by the Dallas Fed to lead the search for its president. He was initially contacted to fill the position by a member of the bank's search committee acting independently of Heidrick & Struggles, Dallas Fed spokesman James Hoard said in an e-mail.
"Kaplan subsequently became a candidate and participated in the same formal process as all of the other highly qualified and diverse candidates in the search," Hoard said. Heidrick & Struggles declined to comment because its search work for clients is confidential.
Fed Critics
Some critics say the process of selecting the policy makers who set U.S. interest rates is too secretive, a complaint that intensified after the Philadelphia Fed picked Patrick Harker as president after he had been a member of the bank's search committee.
The law governing the Fed allows the boards of the 12 regional banks -- who say they're exempt from sunshine laws because they aren't government officials -- to pick their presidents.
Among those who say the selection process for Fed presidents should be more open is Peter Conti-Brown, assistant professor of legal studies and business ethics at the University of Pennsylvania's Wharton School.
Even so, Conti-Brown praised the choice.
"It seems like he is sort of a quintessentially connected person, and that's really, really great for the Dallas Fed," he said. "This is someone who's connected to Washington, he's connected to academia, and he's connected to Wall Street."
The Dallas Fed board said it had cast a wide net to find someone who "appreciates the impact decisions made by the Federal Reserve have on people from all walks of life."
Broad Pool
The search committee "considered a broad pool of excellent candidates," Dallas Fed board chairman Renu Khator said in the press release.
The policy-setting Federal Open Market Committee has 12 voting seats. Eight of those are reserved for the governors of the Fed Board in Washington and the president of the New York Fed. The presidents of the other 11 regional banks rotate through four remaining spots.
The Fed is led by Janet Yellen, who is one of four women currently participating in FOMC meetings. Two seats on the Board are open, and a woman, Kathryn Dominguez, is nominated for one of them.
Criteria for the new president included recognized stature in economics and finance or banking, with a Ph.D. preferred, according to a job description provided by the Dallas Fed. A commitment to the Dallas Fed district, which covers Texas, southern New Mexico and northern Louisiana, also ranked among the desired qualities.
Kansas Roots
Kaplan grew up in Prairie Village, Kansas, and received a bachelor's degree in business administration from the University of Kansas and a master's degree in business administration from Harvard.
He is the author of several books on leadership and also serves on the boards of State Street Corp. and Harvard Management Co. He is a trustee of the Ford Foundation, and chairman and co-founder of Indaba Capital Management LP. Kaplan chairs the investment advisory committee at Google Inc. The Dallas Fed said in its statement that he would step down from these positions before taking his now post.
The new president fills the shoes of an outspoken predecessor. Fisher, 66 and now a senior adviser at Barclays Plc, was a consistent critic of the Fed's unprecedented policy actions to support the U.S. economy.
(Updates with reference to selection of Philadelphia Fed chief in eighth paragraph.)
Before it's here, it's on the Bloomberg Terminal.
LEARN MORE