A Biotech Company Escalates the War Against Its Own Founder
The company demands that Martin Shkreli surrender more than $65 million in allegedly misused company assets
By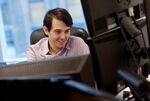 In stepping up a bizarre legal battle with its own founder, the biotech company Retrophin has made a most unusual allegation: that it was created in 2011 and taken public shortly thereafter merely to provide shares for the founder and former chief executive, Martin Shkreli, to hand out to aggrieved investors in an insolvent hedge fund.
Shkreli, 32, first gained public notice as a short-selling trader whose hedge fund MSMB Capital speculated on small biotech stocks to fall. He surprised many investors by then turning around and placing the ultimate long bet—forming a biotech of his own to develop drugs for rare diseases. Controversy followed Shkreli in his new role as Retrophin's chief executive, and the board of directors accused him of misusing assets, an accusation he denied.
Shkreli left Retrophin in September 2014; investor lawsuits and a subpoena from the U.S. Justice Department followed. In February, Retrophin said that based on its own independent investigation, it determined that Shkreli had improperly used company cash and stock to settle a series of threatened lawsuits by investors in MSMB Capital. The lawsuit Retrophin filed today in federal court in New York elaborates on those allegations and seeks more than $65 million in damages, as well as unspecified disgorgement of compensation paid to Shkreli.
Perhaps the most intriguing part of the suit is the allegation that after a single disastrous February 2011 trade with Merrill Lynch effectively wiped out MSMB Capital, Shkreli formed Retrophin "to create an asset that he might be able to use to placate his MSMB Capital investors." The suit goes on to accuse Shkreli of doing exactly that—getting the company aloft and then doling out its cash and shares to fend off complaints from angry hedge fund investors.
"Shkreli was the paradigm faithless servant," the suit states. "Starting sometime in 2012, and continuing until he left the company, Shkreli used his control over Retrophin to enrich himself, and to pay off claims of MSMB investors (who he had defrauded)." He concealed some of these arrangement with "sham consulting agreements" with former investors, the suit adds.
In an interview, Shkreli dismissed the Retrophin suit as "drivel" and vowed to file his own legal action against his former company. "I built the company," he said. "They're eating off my success." Under his separation agreement, Shkreli said he is owed 1 million shares of Retrophin stock. "The pot may be calling the kettle black." He asserted that every transaction Retrophin now points to as improper was actually approved by the board.
Shkreli, a prolific user of social media, punctuated his response with Twitter posts. "Shorting some RTRX [Retrophin]. Company owes me a very large amount of money," he wrote in one message. "I am not the one to f--- with," he said in another that included a reference to the hard-edged hip-hop group Wu-Tang Clan.
Since leaving Retrophin, Shkreli has started a new biotech, Turing Pharmaceuticals, which announced August 10 that it had raised $90 million in financing. Turing describes itself as a developer of "innovative treatments for serious diseases and conditions across a broad range of therapeutic areas for which there are currently limited or no treatment options"—a very similar focus to that of Shkreli's former company. The trader-turned-executive said that he planned to take Turing public.
"The $65 million Retrophin wants from me would not dent me," Shkreli boasted. "I feel great. I'm licking my chops over the suits I'm going to file against them."
Retrophin stock was up 3 percent at 30.50 in late afternoon Nasdaq trading.