China Analysts See IPO Resuming by Year-End as Stocks Climb
Bloomberg News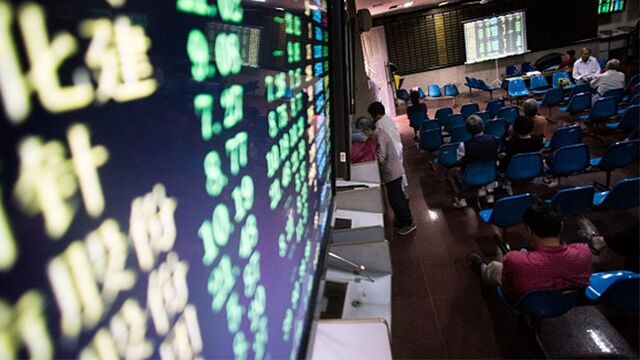 China will probably resume initial public offerings by year-end as a stock-market recovery gives policy makers confidence to pare back emergency support measures, according to analysts in a Bloomberg survey.
Eight of the 14 respondents said IPO approvals will begin by the end of December, while the rest predicted a resumption next year. New share sales -- viewed by many Chinese investors as guaranteed bets -- were suspended in July on concern they would divert funds from existing equities.
While the IPO ban has helped spur a 13 percent rally in the Shanghai Composite Index from this year's low, it's also hindering efforts to reduce China's reliance on debt as economic growth slows to the weakest pace since 1990. About 600 companies are waiting for regulatory approval to list shares on mainland exchanges in offerings that could raise $75 billion, according to data compiled by Bloomberg.
"The government definitely wants IPOs to resume soon, so it can diversify ways of financing," said Tommy Xue, a Shanghai-based analyst at Huatai Securities Co., China's fourth-biggest listed brokerage by revenue. "If the stock market remains strong, it won't take too long."
Unlike in most major stock markets, Chinese regulators control the timing and pricing of new listings. While policy makers have pledged to loosen their grip on the process, almost all of this year's deals have been priced at levels below 23 times earnings. The valuation cap has led to nearly guaranteed gains once new shares start trading, spurring investors to place bids worth hundreds of billions of dollars during each round of new listings.
Valuation Cap
China's unprecedented intervention to end a $4 trillion selloff has helped mainland shares gain during five of the past six weeks. The Shanghai Composite climbed 0.3 percent on Friday to 3,965.34, the highest level since July 24.
IPO approvals won't resume until the Shanghai Composite rebounds to 4,500, said Yang Delong, a strategist at China Southern Fund Management Co. That level is viewed by some investors as a target for authorities after the nation's biggest brokerages pledged not to sell their own holdings while the index is still below 4,500.
"Although the rescue measures are effective, the market is not fully stable," Yang said.
The Shanghai Composite rose 0.7 percent to 3,993.67 at the close.
There won't be any new IPOs in the near future, and the number and value of share sales will be significantly reduced once they resume, the China Securities Regulatory Commission said on July 5.
Bond Shift
Before the stock market started tumbling in June, Chinese authorities had endorsed the use of equity financing as an alternative to debt, which becomes more difficult for many companies to repay as economic growth slows. The aggregate debt-to-equity ratio for companies in the Shanghai Composite rose to the highest level since 2005 in January, while the McKinsey Global Institute estimates corporate liabilities reached 125 percent of gross domestic product in 2014.
The IPO halt has prompted some Chinese companies to tap the bond market for cash instead. Evergrande Real Estate Group Ltd. issued yuan debt last month after an application to list its soccer club and entertainment group stalled.
"IPOs are likely to restart later this year as they were only a temporary measure," said Bruce Yu, manager of the Franklin Templeton SinoAm China A Shares Equity Fund. "If IPO halts remain, companies will have problems getting financing."
Brokerages and fund managers that participated in the survey include Haitong Securities Co., Xiangcai Securities Co., CIMB Securities Ltd., Northeast Securities Co., KGI Securities Co., Galaxy Securities Co., Central China Securities Co., Dongxing Securities Co., Sinolink Securities Co., JK Life Insurance Co. and the HSBC China A Share Focused Fund.