Brown Says Labour Needs to Be Credible as Corbyn Seen Dividing
Scott Hamilton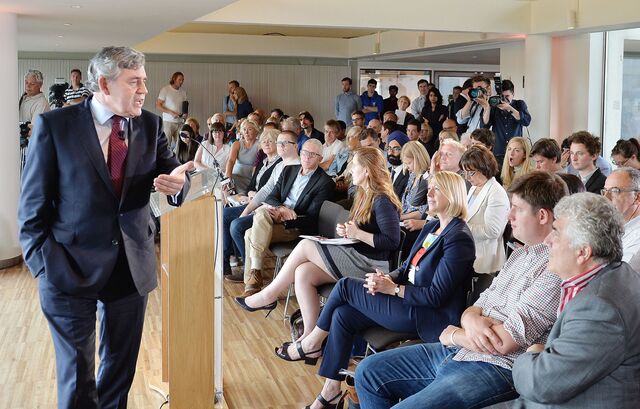 Former U.K. Prime Minister Gordon Brown said his Labour Party needs credible policies to regain power, making his first intervention in an increasingly bitter leadership race that's dividing the party.
"We cannot deliver in government without power. We can only deliver on principles if we have power," Brown said in a speech in London. "We must make the desirable popular and we must make it electable. That is the lesson we're going to have to learn now."
Brown's comments on the contest to succeed Ed Miliband come days after ballot papers began to be mailed out to party members. His remarks that Labour must be credible may be seen as an attack on Jeremy Corbyn, who is leading in polls and whose anti-austerity, re-nationalization ticket has been criticized by some as potentially making the party unelectable.
Corbyn is up against Andy Burnham, Yvette Cooper and Liz Kendall for the leadership, with the result due to be announced on Sept. 12. Brown didn't comment specifically on anyone, saying: "I'm not here to attack any individual candidate and I'm not here to say abandon your high ideals."
That's in contrast to former Labour leader and Prime Minister Tony Blair, who warned on Thursday that the party faces "annihilation" if Corbyn wins and takes the party back toward the hard-left ground it had in the 1980s.
Brown, credited with helping to turn the momentum during the 2014 Scottish referendum campaign when he spoke out against independence, said Labour "can't just say we're going to return to the policies of the past."
Poll Leader
A YouGov Plc poll on Monday put Corbyn 32 percentage points ahead of his nearest rival. Bookmaker William Hill Plc has shortened Corbyn's odds of winning to 2/7, meaning a successful bet of 7 pounds would make a profit of 2 pounds.
In a survey for the Independent on Sunday, Britons were asked what each candidate would mean for Labour's election chances. Corbyn was the most polarizing candidate with an overall reading of minus 10, while Burnham was the only one with a result above zero.
Corbyn argues Labour should oppose austerity policies more, re-nationalize energy companies and railways and pledge to re-open coal mines and scrap the Trident nuclear-weapons program. There is a risk that Labour will split if Corbyn became leader, Burnham said on Sky News on Sunday.
"We do need to unite and then go forward to win that next general election," he said. "A Labour Party that starts fighting itself is of no good whatsoever to the people out there who are losing their tax credits, to disabled people losing their benefits."
Before it's here, it's on the Bloomberg Terminal.
LEARN MORE