Hillary Clinton Says E-Mails Not Election Liability, Slams 'Partisanization'
Clinton also assailed Republicans Friday for exploiting the 2012 attacks in Benghazi to try to score political points against her.
By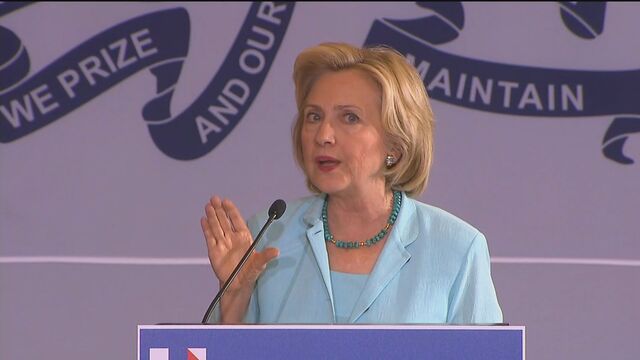 Hillary Clinton said she doesn't see the continued scrutiny of her e-mail practices while heading the State Department as a liability for her campaign for the White House, because voters don't ask about it. 
"I never sent classified material on my e-mail, and I never received any that was marked classified," the Democratic presidential candidate told reporters at the Iowa State Fair in Des Moines on Saturday. "I'm going to let whatever this inquiry is go forward, and will await the outcome of it."
"The State Department has confirmed what I just said to you," Clinton said, before leaving for a tour of the fair with Tom Harkin, the former Iowa senator who announced Friday his endorsement of Clinton.
Although reporters hound her on the e-mail issue, voters haven't raised the subject as she campaigns, Clinton said on Saturday, and denounced what she called "partisanization" by opponents.

"It is never raised in my town halls. It is never raised in my other meetings with people," said Clinton. 
The comments reiterated defiant remarks from a Democratic dinner on Friday, when Clinton attempted to build a moral edge from the issue by assailing Republicans for exploiting the 2012 attacks in Benghazi, Libya, to try to score political points against her.
"It's not about Benghazi. It's not about e-mails or servers either. It's about politics," she told some 2,000 Iowa Democratic activists gathered in the historic Surf Ballroom in Clear Lake, her first comments on the e-mails since the FBI took possession Wednesday of a private server that Clinton used while serving as secretary of state.
"I will do my part to provide transparency to Americans, that's why I'm insisting 55,000 pages of my e-mails be published as soon as possible," she said on Friday.
"But here's what I won't do: I won't get in the mud with them. I won't play politics with national security or dishonor the memory of those who we lost," she said. "I won't pretend that it is anything other than what it is. It's the same old partisan games we've seen so many times before. So I don't care how many super PACs and Republicans pile on. I've been fighting for families and underdogs my entire life and I'm not going to stop now."
Though she's in the midst of a serious legal battle, Clinton wasn't above making a joke at her own expense. Noting on Friday that she joined the messaging site Snapchat earlier this week, she quipped: "I love it—those messages disappear all by themselves."
Related: FBI Investigating Whether Clinton E-Mails Were Backed Up