Disney to Build 'Star Wars' Themed Lands in Two Parks
Christopher Palmeri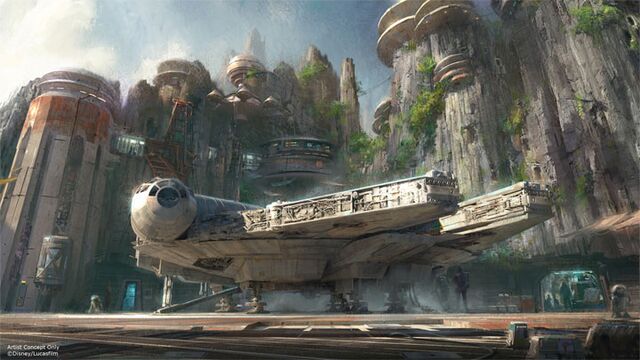 Walt Disney Co. will build "Star Wars"- themed lands at its original Disneyland theme park in Anaheim, California, and its Disney Hollywood Studios in Orlando, Florida, in one of the largest expansions in the company's history.
The projects will include a replica of the famous cantina patronized by outer-space creatures in the 1977 "Star Wars" film, and a ride based on the fictional spacecraft Millennium Falcon, Chief Executive Officer Bob Iger said Saturday at Disney's D23 Expo fan convention in Anaheim.
"We are creating a jaw-dropping new world that represents our largest single themed land expansion ever," Iger said.
The 64-year-old executive has made a multibillion-dollar expansion of the parks a cornerstone of his tenure. Next spring, he'll open the $5.5 billion Disney Shanghai Resort. He's upgraded the company's Florida parks and turned around California Adventure with a $1.1 billion expansion in 2012.
The new lands, each about 14 acres, will include a recreation of a "Star Wars" battle. They're designed to represent a new planet in the "Star Wars" universe. All employees in the land will be in character, Iger said.
The company didn't announce a dollar figure for the projects. The Disneyland construction will begin in late 2017, and the attraction will occupy the current Big Thunder Ranch and some backstage areas of the park.
Intergalactic Food
Disney also announced interim "Star Wars" initiatives at the parks, including Star Wars Launch Bay, an area where guests can meet characters and view props from the films. Disneyland is planning a limited-time event called Season of the Force in early 2016, that will include intergalactic food items and a redecorated Space Mountain roller coaster that will turn it into Hyperspace Mountain.
Attendance at the world's 25 largest theme parks climbed 4.1 percent in 2014 to 223 million visitors, helped by new attractions such as Harry Potter at Universal Studios in Orlando, Florida, according to the Themed Entertainment Association trade group.
At D23, a biennial fanfest that ends on Sunday, Disney was showing off models of its new Shanghai resort as well as an "Avatar"-themed land scheduled to open at its Animal Kingdom park in Orlando in 2017.
Fans have anticipated a major new "Star Wars" attraction at a Disney park since the company acquired the film franchise's owner, Lucasfilm, for $4 billion in 2012.
The Anaheim City Council voted in July to grant Disney a 30-year exemption from any future entertainment tax in exchange for the company's promise to invest $1 billion in its two parks there.