U.S. Credit Traders Send Warning Signal to Rest of World Markets
Lisa Abramowicz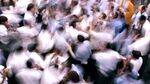 Credit traders have an uncanny knack for sounding alarm bells well before stocks realize there's a problem. This time may be no different.
Investors yanked $1.1 billion from U.S. investment-grade bond funds last week, the biggest withdrawal since 2013, according to data compiled by Wells Fargo & Co. Dollar-denominated company bonds of all ratings have lost 2.3 percent since the end of January, even as the Standard & Poor's 500 index gained 5.7 percent.
"Credit is the warning signal that everyone's been looking for," said Jim Bianco, founder of Bianco Research LLC in Chicago. "That is something that's been a very good leading indicator for the past 15 years."
Bond buyers are less interested in piling into notes that yield a historically low 3.4 percent at a time when companies are increasingly using the proceeds for acquisitions, share buybacks and dividend payments. Also, the Federal Reserve is moving to raise interest rates for the first time since 2006, possibly as soon as next month, ending an era of unprecedented easy-money policies that have suppressed borrowing costs.
'Unusual' Conditions
All of this has corporate-bond investors concerned enough that they're demanding 1.64 percentage points above benchmark government rates to own investment-grade notes, the highest since July 2013, Bank of America Merrill Lynch index data show.
That's also the biggest premium relative to a measure of equity volatility since March 6, 2008, 10 days before Bear Stearns Cos. was forced to sell itself to JPMorgan Chase & Co., according to Bank of America Corp. analysts led by Hans Mikkelsen in an Aug. 13 report.
"Unlike the credit market, the equity market well into 2008 was very complacent about the subprime crisis that led to a full blown financial crisis," the analysts wrote. "While we are not predicting another financial crisis, we believe it is important to keep highlighting to investors across asset classes that conditions in the high grade credit market are currently very unusual."
So if you're very excited about buying stocks right now, just beware of the credit traders out there who are sending some pretty big warning signs.