Summer Fridays Turn Gloomy as Stock Investors Play It Safe
Callie Bost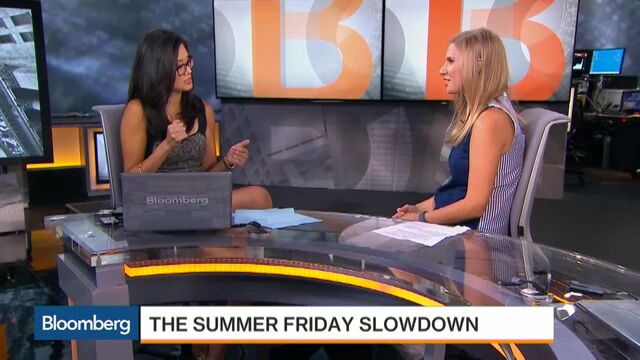 Happy Friday? Maybe if you're at the beach. For equity investors, the last day of the week has been a bit of a downer this summer.
Before today, the Standard & Poor's 500 Index ended with losses for 10 of the past 12 Fridays, the first time that's happened since 2007, according to data compiled by Bloomberg and Sundial Capital Research Inc.

While even Sundial says such a pattern may be nothing more than a statistical fluke, it could be a reflection of investor reluctance to hold U.S. equities going into the weekend. Turmoil from Greece to China has upset global markets this summer, the latest threats to the almost seven-year bull market along with declining market breadth and a looming U.S. interest-rate increase.
"After a prolonged bull market, with signs that things are getting shaky, a legitimate concern is increasing risk aversion that finally causes a break in the relentless buying pressure," Jason Goepfert, president at Sundial in Blaine, Minnesota, wrote in a note Thursday. "A lack of interest in buying stocks heading into a weekend is an offbeat expression of that risk aversion."
The S&P 500 bucked the trend today, climbing 0.4 percent to 2,091.54 at 4 p.m. in New York and reversing a drop of 0.1 percent earlier in the day.
Debt negotiations between Greece and its creditors kept investors on edge earlier this summer, with the country making a decision June 28 to shut its banks and impose capital controls and holding a referendum the following Sunday.
Equities were pressured last week as investors sold some of the bull market's biggest winners and commodity shares continued their slide. The latest threat to stocks was China's decision this week to devalue the yuan amid signs of a slowing economy, eroding currencies from Malaysia to Russia and pulling emerging-market shares down 2.6 percent.
The last time investors were this bearish on Fridays was before the financial crisis, according to Sundial. Then, the S&P 500 peaked in October 2007 before losing almost 60 percent in value.