Kerry in Havana Says U.S. and Cuba Aren't Prisoners of Past
Indira A.R. Lakshmanan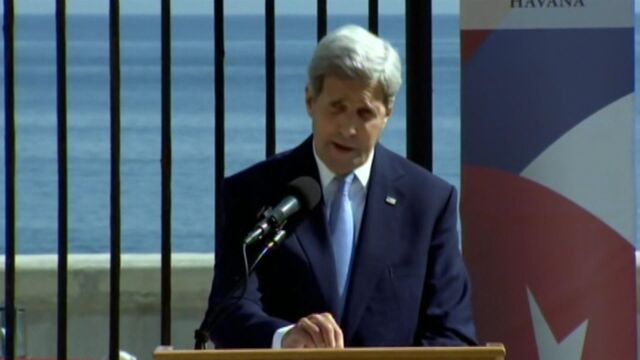 John Kerry, the first U.S. secretary of state to visit Cuba since 1945, told guests at the reopened American embassy in Havana that the two nations' leaders "made a courageous decision to stop being prisoners of history."
After more than a half century "suspended in the amber of Cold War politics," Kerry said before the American flag was raised in front of the embassy on Friday, "the time has come for us to move in a more promising direction."
Kerry's visit to Havana is another milestone in the move toward normalized relations that Presidents Barack Obama and Raul Castro announced in December. While the reopening has been celebrated by many in Cuba and the U.S., it's been criticized by lawmakers such as Senator Marco Rubio of Florida, a Republican presidential candidate, as a capitulation to the communist Castro regime.
In a speech in New York on Friday, Rubio, the son of Cuban immigrants, dismissed the Obama administration's talk of new opportunities for U.S. business.
"When you're opening up to the Cuban economy, what you're opening up to is this holding company run by the military -- in fact, run by Raul Castro's son-in-law," Rubio said. "So what American companies are going to find when they go to Cuba is No. 1, a government that's going to say, 'Well, we'll let you flag a hotel under your name, but it belongs to us...'"
Travel, Commerce
Since January, Kerry said, travel from the U.S. to Cuba has increased 35 percent and "more and more U.S. companies are exploring commercial ventures here that would create opportunities for Cuba's own rising number of entrepreneurs."

The flag-raising ceremony where he spoke was symbolic because Washington and Havana upgraded their limited diplomatic missions to embassies on July 20. Adding to the drama of the moment, the flag was raised by three men who as U.S. Marines lowered it when the U.S. embassy closed 54 years ago.
"All three of us brought it down, and we're thrilled to death to see it go back up," Larry C. Morris, 75, a former Marine corporal from Huntington, West Virginia, said before the event.
The ceremony was conducted inside the embassy gates looking out on the Bay of Havana before an audience of invited guests including Cuban officials and a group of U.S. lawmakers who support normalizing relations.
Not invited -- because of limited space, the U.S. said -- were dissidents pressing for change in the island nation. Kerry was scheduled to meet with them, along with an array of Cubans from entrepreneurs to artists, later in his 10-hour visit.
The events underscored the potential as well as the limits of rekindled U.S.-Cuba relations.
Embargo Remains
Obama has called for the repeal of legislation that bars most U.S. trade with Cuba.
"We should move forward, lift the embargo, and open up commerce with a market of 11 million people just 90 miles from our shores," Senator Amy Klobuchar, a Minnesota Democrat who joined Kerry for the trip, said in an interview.
Leaders of the Republican-led Congress have vowed to maintain the embargo and also have said they will block confirmation of an ambassador to serve in Havana, where career foreign service officer Jeffrey DeLaurentis will continue to serve as chief envoy.
Unfinished Business
Both countries have indicated they have much unfinished business to discuss now that they are talking to each other again.
While "Cuba's future is for Cubans to shape," Kerry said, "we remain convinced the people of Cuba would be best served by a genuine democracy, where people are free to choose their leaders, express their ideas, and practice their faith; where the commitment to economic and social justice is realized more fully; where institutions are answerable to those they serve; and where civil society is independent and allowed to flourish."
Aside from pressing the Cuban government to expand personal and political freedoms, a State Department official told reporters Wednesday that the Obama administration will now make a priority of winning the extradition to the U.S. of American fugitives who've spent decades in Cuba and of settling claims by Americans whose property was seized without compensation in the communist revolution, including many Cuban families who fled to the U.S.
Castro's Birthday
On Thursday, Cuba marked the 89th birthday of former President Fidel Castro, Raul's older brother, by publishing a 521-word essay in his name that asserted it's the U.S. that should be paying Cuba.
"Cuba is owed compensation equivalent to damages, which total numerous millions of dollars, as our country has stated with irrefutable arguments and information throughout all our speeches at the United Nations," Castro was quoted as saying, in a reference to Cuba's economic hardship under the long-running U.S. embargo.
The 1950s-era U.S. embassy, a six-story rectangle of cement and glass, is located on the Malecon, a boulevard along the bay, and isn't far from the Cuban foreign ministry. Kerry planned to visit the ministry later in the day to meet with Foreign Minister Bruno Rodriguez, who met with Kerry at the State Department when the Cuban embassy in Washington reopened last month.
Under terms negotiated for restoring diplomatic ties, the State Department official said, Cuban citizens are now able to visit the U.S. embassy freely to use its Internet connection, meet diplomats and engage in educational programs without restrictions and without Cuban government approval.
In addition, U.S. diplomats are able to travel freely on the island without seeking prior permission from Cuban authorities although they must inform them where they are going, as is true in other countries that place restrictions on U.S. diplomats, the official said.
Polls indicate Obama's move to restore diplomatic ties with Cuba, backed by Democratic presidential front-runner Hillary Clinton, is popular with the American public. According to a recent AP-GfK poll, 71 percent say the U.S. should have diplomatic relations with Cuba. Twenty-five percent said it shouldn't.