JPMorgan Salary Package Grows as Pay Limits Are Thwarted
Caleb Melby and Brandon Kochkodin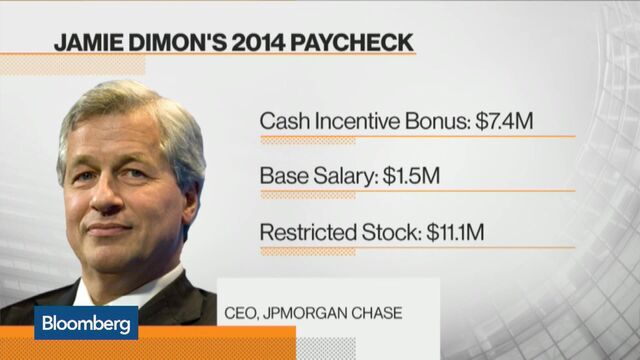 Daniel Pinto earned a higher salary last year than his boss, Chief Executive Officer Jamie Dimon, according to JPMorgan Chase & Co.
Dimon made more when factoring in bonuses and awards such as stock options in addition to his $1.5 million salary. But Pinto, the CEO of JPMorgan's corporate and investment bank, took home a $7.4 million salary, 10 times more than he did in 2013 and the highest such payment from a U.S.-based public company, according to data compiled by Bloomberg. Pinto's raise includes a "cash fixed allowance" while his bonus went to zero from more than $8 million in 2013, the bank said in a regulatory filing.
Pinto, who works in London, and other European-based executives in the industry are getting more in fixed-cash salaries and less in bonuses after European Union policy makers tried to discourage excessive financial risk-taking by limiting performance-based rewards. In the U.S., legislators took the exact opposite tack to stem compensation by using a tax law to rein in managers' salaries. That's been foiled by rising performance-based pay.
"This is an example of government actions and unintended consequences," said Steven Hall, founding partner of executive compensation consulting firm Steven Hall & Partners in New York. "Unless you're going to come through with a mandatory 'Thou can only pay so many million dollars,' companies will find ways to get around almost all of these laws."
Widening Gulf
With chief executives at Standard & Poor's 500 Index firms making 331 times more than their workers, an increase from 46-to-1 in 1983, according to the AFL-CIO, the U.S. and EU policies are looking to narrow the widening gulf in incomes.
That's what the policies have in common. EU rule makers say they're trying to avoid reckless behavior that could trigger a 2008-like meltdown, while the U.S., which approved the legislation in the 1990s, requires salaries greater than $1 million to be performance-based to qualify for corporate tax deductions.
Companies are following the letter of the law but not the spirit, said Michael Pryce-Jones, director of corporate governance at Washington-based CtW Investment Group.
Last year, Pinto's role expanded. He went from running the corporate and investment bank as its co-CEO to overseeing it alone in March 2014. JPMorgan shares rose 7 percent in 2014 while net revenue for the division Pinto oversees fell 0.4 percent from 2013, to $34.6 billion, according to a bank disclosure.
Dimon received a cash bonus of $7.4 million in addition to his 2014 salary. The bank's board is considering changes to its compensation policies after a record-low 61 percent of voting investors approved its 2014 executive pay packages.
Compensation Formula
Pinto's compensation formula changed after an EU rule, instituted in January 2014, limited incentive pay to twice an executive's fixed pay. Led by Chancellor of the Exchequer George Osborne, the U.K. government brought a legal challenge against the rule, which was ultimately abandoned.
JPMorgan replaced Pinto's bonus with "a cash fixed allowance payable bi-annually," according to its April proxy. Pinto's total reported compensation of $15.8 million is less than the roughly $22 million the EU rule would allow. That leaves the bank room to increase performance-based awards in future years, Pryce-Jones said.
"The composition of this pay is consistent with European Banking Authority guidelines which state that firms should not be able to reduce, suspend or cancel fixed compensation," said Jennifer Zuccarelli, a spokeswoman for JPMorgan in London.
Top Pay
Morgan Stanley also changed how it paid London-based Colm Kelleher, its president of institutional securities. His salary, also including a fixed allowance, grew sevenfold to $6.8 million, the third-highest at any U.S.-based public company, while his cash bonus fell.
Morgan Stanley shares increased almost 24 percent in 2014. Net revenue at Kelleher's institutional securities unit rose 9 percent in 2014 to $16.9 billion, according to bank filings.
Michele Davis, a spokeswoman for Morgan Stanley, declined to comment.
Goldman Sachs Group Inc.'s changes in how it pays U.K.- based Vice Chairman Michael Sherwood show the ways firms will continue to compensate their employees while staying within the rules. While Pinto, 52, and Kelleher, 58, received cash-based allowances, Sherwood, 50, was allotted what his employer calls an "equity-based fixed allowance" of $9.15 million. Thirty percent of that will pay out this year while the rest will come in equal annual installments through 2018. Next year, he'll receive an allowance of $11.2 million, the company said in its proxy statement.
Andrew Williams, a Goldman Sachs spokesman, declined to comment.
Tax Implications
The U.S. tax law was passed in 1993 with the support of President Bill Clinton. It's done little to keep a lid on compensation as bigger payouts of stock options and restricted shares coupled with a rallying stock market have sent executive pay packages soaring.
Hillary Clinton, a Democratic candidate for U.S. president, said in a July speech that she may favor reversing the tax measure, describing equity-heavy plans as creating "a perverse incentive for executives to seek the big payouts that could come from a temporary rise in share price."
Some companies pay salaries in excess of the $1 million cap despite the tax implications. Almost 500 companies in the Russell 3000 Index awarded at least one executive a salary higher than $1 million in their most recent fiscal years, according to data compiled by Bloomberg.
Billionaire Rupert Murdoch was paid a $7.1 million salary at Twenty-First Century Fox Inc. last fiscal year, the second-highest at a U.S. company after Pinto. When total compensation is factored in, Nicholas Woodman, the 40-year-old CEO of camera maker GoPro Inc., was awarded $287.2 million in 2014, making him No. 1 on the Bloomberg Pay Index, a ranking of the highest-paid U.S. executives.