U.S. Stocks Decline Amid Retail Sales Data as China Worries Ease
Oliver Renick and Annelise Alexander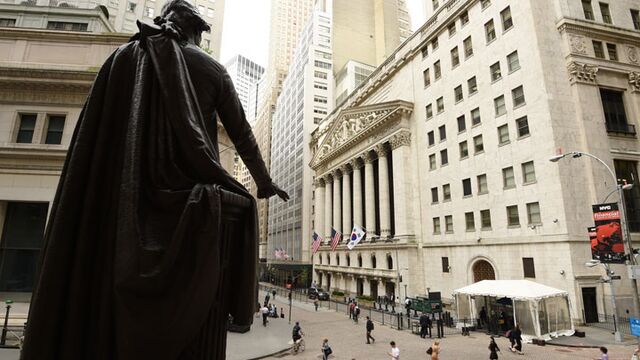 U.S. stocks closed lower, after fluctuating throughout the day, as anxiety over China eased while investors focused on economic data and the pace of any Federal Reserve interest-rate increases.
The Standard & Poor's 500 Index ran out of steam after yesterday staging its biggest intraday recovery in three years. Stocks held in the tightest trading range since 1927, after China earlier this week roiled global markets with a shock currency devaluation. Labor and sales data today bolstered the case for higher interest rates as soon as next month.
The S&P 500 slipped 0.1 percent to 2,083.46 at 4 p.m. in New York, after ranging between a 0.3 percent gain and falling as much as 0.4 percent. The Dow Jones Industrial Average rose 5.74 points to 17,408.25, and the Nasdaq Composite Index added 0.4 percent. About 6.2 billion shares traded hands on U.S. exchanges today, 5 percent below the three-month average.
"The markets overreacted, we saw the turnaround yesterday, and that's all nice but the S&P is in a well-worn range and the range may continue to prevail," said Julian Emanuel, executive director of U.S. equity and derivatives strategy at UBS Securities LLC in New York.
The S&P 500 yesterday erased a 1.5 percent loss sparked by concerns China's economy is faltering, reversing after it fell below 2,050. That's toward the bottom end of a range its been stuck in all year, with the top being its May 21 record of 2,130. The gauge has advanced 1.2 percent in 2015, never closing more than 3.5 percent above or below where it started the year.
Retail Sales
Global markets have been jolted since Chinese policy makers on Tuesday unexpectedly devalued the yuan. The currency's tumble slowed today after the People's Bank of China said that there's no basis for depreciation to persist and policy makers will step in to control large fluctuations.
"The statement out of the Chinese authorities calmed fears regarding the prospect of these awful phrases like 'currency wars,'" said Daniel Murray, London-based head of research at EFG Asset Management. "With concerns about China and Greece fading, the market can focus on fundamentals underlying the U.S. economy."
Data today showed sales at U.S. retailers rose in July on growing demand for everything from cars to clothing, and a decline the previous month was wiped away, signaling consumers are propelling growth in the world's largest economy. The 0.6 percent advance matched the median forecast of economists surveyed by Bloomberg.
"I don't think it's a market mover and I don't think it will influence the Fed's upcoming decision on raising interest rates, but I do think it's a good number given that it shows some stability," said Bruce Bittles, chief investment strategist at Milwaukee-based Robert W. Baird & Co., which oversees $110 billion.
Rate Odds
A separate report showed applications for unemployment benefits in the U.S. are hovering close to a four-decade low, a sign of muted firings and steady progress in the labor market.
Traders have raised their expectations for a September rate move by the Fed, amid the data and as concerns about the impact of China's currency devaluation ease. The probability of a rate increase in September rose to 48 percent from 40 percent Tuesday, according to futures trading data compiled by Bloomberg. Odds were at 54 percent after the July jobs report last Friday.
The Chicago Board Options Exchange Volatility Index fell 1 percent Thursday to 13.49. The gauge, known as the VIX, is up about 11 percent so far in August, recovering a third of July's biggest monthly drop since February.
Energy Retreats
Eight of the S&P 500's 10 major groups declined today, led by a 1.4 percent drop in energy shares that followed a nearly 2 percent jump in the sector Wednesday. Consumer discretionary and financial companies rose.
Consol Energy Inc. and Transocean Ltd. paced declines among the benchmark's energy stocks, falling more than 6.5 percent. Crude oil slumped to a six-year low as a global glut and a rising dollar curbed investor demand for commodities. Energy shares led yesterday's rebound, with Consol and Transocean rising more than 3.8 percent.
Kohl's Corp. dropped 8.8 percent to the lowest level since November after the retailer reported second-quarter sales that fell short of analysts' estimates and said profits this year will be at the low end of its forecast.
Retailers, Builders
Shake Shack Inc. fell 16 percent, the most since its January trading debut, after pricing a secondary stock offering at $60 a share, below Wednesday's close.
Retailers were among the best performers in the equity benchmark following the report showing broad-based sales gains in July, and as Advance Auto Parts Inc. rallied 9.2 percent to a record on better-than-estimated quarterly profits. O'Reilly Automotive Inc. and AutoZone Inc. rose more than 2.4 percent. Home Depot Inc. and Lowe's Cos Inc. added at least 1.8 percent.
An S&P index of homebuilders rose 1.8 percent to a two-month high. PulteGroup Inc. gained 2.3 percent, and D.R. Horton Inc. reached its highest since February 2007, up 2.4 percent.
Cisco Systems Inc. rose 2.9 percent, the most since February, as quarterly revenue beat estimates. News Corp. gained 7.6 percent, its biggest rise in more than a year, after saying it is nearing the conclusion of talks to sell its Amplify Inc. education unit, even as sales missed forecasts.
Netflix Inc. climbed 2.7 percent. Pay-TV services recorded their biggest-ever quarterly drop in subscribers, losing 625,000 TV customers, according to a report from the research firm SNL Kagan. So-called cord cutters are dropping pay-TV packages that cost an average $87 a month in favor of online services from Netflix and Amazon.com Inc. priced at under $10.
As the earnings season winds down, about three-quarters of the S&P 500 companies that have reported so far beat profit estimates, while almost half topped sales projections. Analysts expect a 2.1 percent drop in second-quarter earnings, less than July 10 calls for a 6.4 percent decline.