business
Brazilian Politics Get Nasty in Search for New Central Bank Board Member
Mario Sergio Lima, Matthew Malinowski and Carla Simoes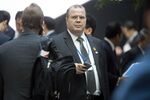 Brazil's political crisis is limiting central bank President Alexandre Tombini's option of filling a board vacancy by tapping the financial market.
Tombini needs to replace economic policy director Luiz Awazu Pereira, who steps down Oct. 1, and the Senate must vet his choice. But "choice" is exactly what the central banker is lacking at the moment.
A crumbling coalition and congressional criticism of the only central bank director from the financial community has increased pressure on Tombini to confine his search to within the central bank, according to legislators, government officials and former central bank directors.
"There are politicians who don't think it's time to have someone who comes from the market in the central bank," said former central bank director Carlos Thadeu de Freitas Gomes. "The market and politics don't always match."
Awazu's replacement will join a board that has yet to convince investors that inflation will slow to target in 2016. Appointing someone backed by investors would help Tombini persuade markets that he will stay the course in spite of a political crisis that has weakened the real and dented plans to reduce Brazil's budget gap.
Tilted Board
Among the bank's nine voting members, International Affairs Director Tony Volpon is the only one not affiliated with the central bank during President Dilma Rousseff's first term. During her first four years in power, policy makers embarked on a series of rate cuts that brought the benchmark Selic rate down to a record-low 7.25 percent in October 2012 as inflation accelerated, prompting criticism from traders and analysts.
"The board is still tilted to having insiders," Paulo Vieira da Cunha, a former central bank director and the current chief economist at Ice Canyon LLC, said. "There is an opportunity to rebuild the credibility of the central bank by bringing someone from the outside who was not compromised by doubtful and questionable decision making."
Three names cited in government circles as possible replacements for Awazu are all officials who have been in public positions for at least 14 years. Wagner Guerra, Volpon's cabinet chief, is someone who has been praised by Tombini, said two people who frequently speak with the central bank's president. Guerra previously worked for the Finance Ministry.
Another option is Andre Minella, who also worked at the Finance Ministry and is currently an economic adviser to Tombini, said one member of Rousseff's economic team who asked not to be named because a decision hasn't been made.
Best Suited
The bank's executive secretary, Marcio Barreira Ayrosa, is best suited for the position because of his combined economic background and knowledge of the inner workings of the organization, according to a person familiar with the board's operation and Tombini's thinking, who asked not to be named because the discussions aren't public.
"Central bank workers would like to have someone from within the bank on the board," said Daro Piffer, president of the labor union of central bank employees. "Most people that come from outside use the central bank as a springboard for their careers."
The central bank declined to comment on the process, saying that they do not comment on market and political speculation. Awazu will become the deputy general manager for the Bank of International Settlements.
Volpon Critics
Last month congressional leaders demanded that Volpon step down after making public comments seen as anticipating his intention to vote for a rate increase at the July meeting. Volpon, who took office in April, was previously a managing director at Nomura Holdings Inc. in New York and is currently considered the central bank's main liaison with investors.
Policy makers have lifted the key rate at the past seven meetings to a nine-year high of 14.25 percent. According to the minutes of their July meeting, keeping the Selic at the current level for a prolonged time will bring inflation back to the 4.5 percent target.
"People from the market tend to always defend increasing rates to please their friends," said Eunicio Oliveira, a Senate leader from the largest allied party who asked Volpon to explain his comments or resign. "The central bank should not appoint another person that comes from market, that's the most difficult profile to get past the Senate now."
Volpon abstained from voting at the July 29 monetary policy meeting to avoid damaging the institution's image, according to a central bank statement. The minutes of a meeting published the same day recommended that board members "double the natural and known caution" in their communications.
Congress's reaction to Volpon comments are an indication of how heated the process of replacing Awazu may become. To avoid a Senate approval hearing altogether, Tombini may decide to put one current director in charge of two board positions and wait until political tensions subside to promote someone new, according to the person who said Ayrosa is the best-suited candidate.
"Seeking a new director in a moment of crisis is always difficult," said Carlos Kawall, a former Treasury secretary and currently the chief economist at Banco Safra SA in Sao Paulo. "That's especially true today in a moment of political and economic distress."
(Updates with labor union president in 11th paragraph.)
Before it's here, it's on the Bloomberg Terminal.
LEARN MORE