business
Spieth Is Favorite to Become PGA Tour's First $11 Million Man
By
Spieth can surpass season earnings record at PGA Championship

Spieth is a 6-1 favorite to capture season's final major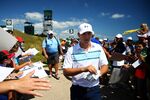 Jordan Spieth can become the PGA Tour's first $11 million man at Whistling Straits.
Spieth, the winner of this year's Masters Tournament and U.S. Open, is a 6-1 favorite to capture the golf season's final major -- the PGA Championship starting Thursday morning in Kohler, Wisconsin. A victory would make him the first golfer to top more than $11 million in U.S. PGA Tour earnings in a season, yet another milestone for the 22-year-old American.

"He now goes into each major plotting, planning and on a mission, preparing himself for a win," said six-time major champion Nick Faldo, a golf analyst for CBS Sports. "I pride myself on the couple of majors I won and went there with the intention to win when I was in my 30's. This young man now goes to the majors with the intention to win, and that's pretty darn impressive for a 22-year-old."
Spieth's haul so far this season is more than $9.3 million through 20 PGA Tour events, including $1.8 million for his wins at both the Masters and U.S. Open. The top prize at the PGA Championship is also $1.8 million.
Only two golfers have topped $10 million in official prize money on the PGA Tour: Tiger Woods in 2005, 2007 and 2009, and Vijay Singh, who brought in a record $10.9 million by winning nine times in 29 events in 2004. Woods in 2007 collected almost $10.87 million by winning seven of 16 events.
Spieth, who tied for fourth place at the British Open and missed the playoff by one stroke, has missed the cut for weekend play in both of his previous PGA Championship appearances. Spieth said one of the goals he set at the beginning of the year was to make the cut in all four majors -- so as well as he's played this season, that accomplishment still eludes him.
"Certainly they have gone according to plan up to this point," Spieth said. "I've got some work to do these first two days and from there we'll adjust and work our butts off to try and get a third major this year, which would be a pretty cool place in history to be a part of."
Spieth has a chance to join Woods and Ben Hogan as the only golfers to capture three of golf's four current majors in the same season. He also could supplant Rory McIlroy atop the Official World Golf Ranking.
'Career Goal'
"That was just a career goal at one point," Spieth said. "Given everything that's happened, I believe now that I would like it obviously to be sooner rather than later and then to be able to hold on to it."
Even with his four wins and 13 top-10 finishes, Spieth actually hasn't been the most efficient golfer in on-course earnings this season. While Spieth has raked in an average of almost $466,000 in each of his 20 starts, McIlroy has totaled $4.1 million in just eight events for an average of $518,000.
With 12-1 odds at the Westgate Las Vegas SuperBook, McIlroy is tied with Jason Day and Bubba Watson as the second favorite behind Spieth in the third PGA Championship staged at Whistling Straights in the past 12 years. McIlroy won as the 4-1 favorite last year at Valhalla Golf Club in Louisville, yet will be playing competitively for the first time since a July 4 ankle injury that required surgery.
Since the PGA Championship became a stroke-play event in 1958, only one player has successfully defended his title at the tournament: Woods in both 2000 and 2007.
"My record at the PGA Championship has been the best out of all the majors," said McIlroy, who also won the 2013 championship at Kiawah Island in South Carolina. "I think more than anything else the golf courses that we have played in this tournament have been set up in such a way that it suits my type of game and it really rewards good driving."
Dustin Johnson has 15-1 odds to win the PGA Championship, followed by Justin Rose and Rickie Fowler at 20-1 odds. Adam Scott and Henrik Stenson are both listed at 25-1.
Woods, who won the latest of his 14 major championship titles in 2008 and has slipped to 278th in the world rankings, is tied for 14th in the field with 50-1 odds. 
A four-time PGA Championship winner, Woods has totaled a record $109.9 million in PGA Tour winnings over his career. Spieth enters the PGA Championship in 74th place with $17.5 million and climbing after collecting more than $4 million in this year's first three majors alone.
"We have been improving each year in the major championships," Spieth said. "This year if I can get in contention again and not only get over that hurdle of making the cut at a PGA Championship, but also to contend to win, I think we're going to be a lot more mature in that situation."
Before it's here, it's on the Bloomberg Terminal.
LEARN MORE