RWE Loss Widens as Conventional Power Margins Shrink
Tino Andresen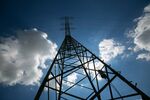 RWE AG's second-quarter loss widened sevenfold as margins shrank at power plants while half-year profit missed analyst estimates. The shares fell, the biggest loser in Germany's benchmark DAX index.
The adjusted net loss for Germany's largest power producer widened to 334 million euros ($372 million) in the three months through June from 48 million euros a year earlier on sales of 10.5 billion euros, according to the Essen-based company's earnings data. RWE reiterated its full-year target for adjusted net income of 1.1 billion to 1.3 billion euros.
Germany's unprecedented shift to renewable energy is driving down power prices and eroding the profitability of traditional utilities that run coal, gas and nuclear stations. RWE, whose coal-fired plants make it Europe's biggest carbon emitter, and competitor EON SE are reducing capital spending and selling assets to cut costs.
"It will be difficult to meet the guidance" on adjusted net income, "it will only be enough for the bottom of the range in a best-case scenario," Guido Hoymann, an analyst at B. Metzler Seel Sohn & Co. KGaA, said by phone from Frankfurt. "The slump in the generation unit's profit is striking."
RWE fell 7.9 percent, the biggest decline in more than two years, to 16.825 euros in Frankfurt, the lowest close in price data compiled by Bloomberg that goes back to August 1992. The shares have dropped 34 percent this year compared with a 17 percent drop in EON.
Shrinking Margin
Earnings before interest, taxes, depreciation and amortization fell 7 percent in the first half to 3.19 billion euros. This was due mainly to shrinking margins in conventional electricity generation, where earnings slid 27 percent and where the company seeks further cost cuts.
In the U.K., RWE anticipates a "significant deterioration" in the full-year operating result, which it previously forecast "moderately above" a year earlier; it fell 60 percent in the first half amid customer billing problems, lower energy consumption and higher grid fees. RWE has no plans to sell the unit, Chief Executive Officer Peter Terium told reporters on a call.
RWE's first-half adjusted net income dropped 28 percent to 543 million euros from a year earlier. That missed the 741.3 million-euro average of eight estimates compiled by Bloomberg.
German year-ahead wholesale power prices averaged 32.04 euros a megawatt-hour in the first half and were 9.2 percent below last year's level, according to broker data compiled by Bloomberg.
Unadjusted net income was 1.74 billion euros in the first six months. Sales advanced 0.2 percent to 25.1 billion euros.
EON on Aug. 12 reported a 21 percent decline in profit in the first six months of the year.