Retail Sales Show Broad Gain as U.S. Consumers Spur Growth
Shobhana Chandra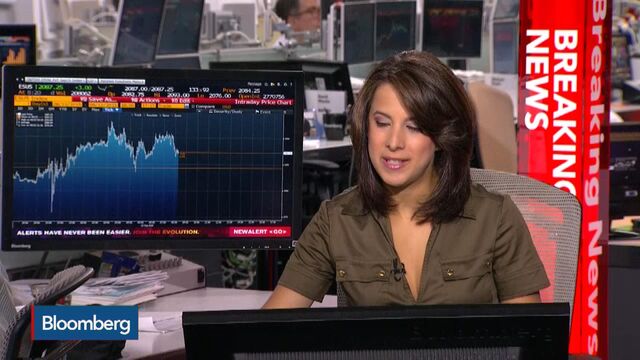 Sales at U.S. retailers rose in July on growing demand for everything from cars to clothing, and a decline the previous month was wiped away, signaling consumers are propelling growth in the world's largest economy.
The 0.6 percent advance matched the median forecast of economists surveyed by Bloomberg and followed little change in June that was previously reported as a 0.3 percent drop, a Commerce Department report showed Thursday in Washington. Eleven of 13 major categories showed gains.
Rising employment, stronger finances and still-cheap fuel is helping draw consumers into stores and auto dealerships. Growth in household spending, which accounts for about 70 percent of the economy, is bolstering the expansion as Federal Reserve policy makers move toward lifting interest rates this year for the first time since 2006.
"The consumer-driven recovery of the economy continues on track," said Harm Bandholz, chief U.S. economist at UniCredit Group in New York, who correctly projected the gain. "The fundamentals are all in place for solid consumer spending. The outlook remains strong for the second half of the year."
Estimates in the Bloomberg survey of 84 economists for total retail sales ranged from gains of 0.1 percent to 1 percent.
A report from the Labor Department showed applications for unemployment benefits last week hovered close to a four-decade low, a sign firings remain muted as the job market firms. While jobless claims climbed by 5,000 to 274,000 in the period ended Aug. 8, they remain close to the 255,000 reached a month ago that was the lowest since 1973.
Cheaper Imports
The cost of goods imported into the U.S. fell 0.9 percent in July from the prior month, the biggest drop since January, another Labor Department report showed. The decrease was led by a slump in fuel prices.
The Commerce Department's report showed retail sales excluding autos increased 0.4 percent in July for a second month. The revised reading for June also reversed a previously estimated 0.1 percent drop, painting a healthier picture for consumer spending.
The updated June figures, combined with upward revisions to May, will probably prompt economists to boost tracking estimates of second-quarter growth. The Commerce Department last month reported gross domestic product grew at a 2.3 percent annualized rate from April through June.
Prior to the retail sales report, economists at Morgan Stanley and Barclays Plc had already put the second-quarter reading closer to 3 percent based on previously updated figures for construction spending and inventories.
Auto Sales
Sales at automobile dealers grew 1.4 percent in July after dropping 1.5 percent the prior month, Thursday's report showed.
Industry data from Ward's Automotive Group showed sales of cars and light trucks climbed to a 17.5 million annualized rate in July from almost 17 million the prior month. General Motors Co. and Ford Motor Co., whose sales exceeded forecasts, are among the beneficiaries of rising demand for large and luxury sport utility vehicles.
The figures used to calculate GDP, which exclude categories such as food services, auto dealers, home-improvement stores and service stations, showed a 0.3 percent gain in July after the prior month's 0.2 percent increase in the so-called control group.
Purchases at non-store retailers, which include online merchants, were among the best performers last month. Sales rose 1.5 percent, the biggest gain since February.
Internet Sales
Amazon.com Inc. held a Prime Day on July 15 to mark its 20th anniversary, featuring reduced prices on television sets, lawnmowers and other goods. The company said the promotion helped to drive orders surpassing Black Friday, an annual U.S. sales event following the Thanksgiving Day holiday that kicks off the year-end shopping season.
The job market is giving consumers the wherewithal to keep spending. Payrolls grew in July by 215,000 workers following a 231,000 gain in the prior month, and the jobless rate held at a seven-year low of 5.3 percent.
Before it's here, it's on the Bloomberg Terminal.
LEARN MORE