PGA Warns of Bunker Bungle as McIlroy Returns, Spieth Seeks Win
By
Dustin Johson thanks PGA for covering up 18th-hole bunker

Defending champion McIlroy coming back from ankle injury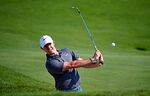 In his opening remarks to begin a news conference a day before the start of the PGA Championship, Kerry Haigh used the word "bunker" 25 times and held up a yellow sheet of paper describing the definition of the 1,300 bunkers at Whistling Straits golf course.
Haigh, who oversees the tournament for the PGA of America, was trying to reduce the chances of a repeat incident that cost American Dustin Johnson a chance to win golf's final major tournament of the year the last time the event was held at the course in 2010.
"We are going to have a little discussion about bunkers," Haigh said Wednesday, waving the piece of paper in the air. "We gave this to every player in the registration packet. We gave it to every caddie in their registration packet. And we have given it to all of you, the media, so that you will be aware of the rule of how we are playing these bunkers this week."
In 2010, after Johnson was eliminated from a playoff for grounding his club in the trampled sand of a battered bunker on the 18th hole, the 31-year-old American said he hadn't read a similar notice that had been posted on a mirror in the players' locker room.
"Maybe I should have looked at the rule sheet a littler harder," Johnson said in 2010.
Five years later, the notice is back on the locker room mirror. Still, Johnson said he hasn't read the rule sheet and has no plans to do so before the opening round.
"I don't need to," he said in a news conference. "After what happened, I'm pretty sure I know what's going on."
The exact bunker that Johnson's ball landed in on the right side of the 18th hole has been covered by a grandstand viewing area for this year's tournament.
"Thank you, PGA," Johnson said, smiling. "I appreciate that."
Bunker Rules
It will be much harder to claim ignorance this time around at a course where many bunkers are far from the fairways and traversed by spectators. Under tournament rules, any sand area on the course is considered a bunker, Haigh said, and players are forbidden from letting their club touch the sand before hitting a shot.
Johnson is among the favorites this week at Whistling Straits, where Northern Ireland's Rory McIlroy will be looking to defend his title in his first tournament since suffering an ankle injury last month while playing soccer and American Jordan Spieth will be seeking his third major win of the year to go with victories at the Masters in April and U.S. Open in June.
Spieth finished fourth in last month's British Open at St. Andrews, ending his chances of becoming the first player in the modern era to secure a single-season Grand Slam.
While much of the pre-tournament discussion has focused on McIlroy's return and Spieth's major run, Johnson's gaffe has generated plenty of discussion, including from Germany's Martin Kaymer, who went on to win the tournament in 2010, defeating Bubba Watson in a three-hole playoff. Johnson finished fifth after being assessed a two-shot penalty on his final hole.
"It's a little sad that every time I -- we talk about the PGA Championship here -- it's like that Dustin threw it away," Kaymer, who also won the 2014 U.S. Open, said in a news conference. "If he would have not gotten the penalty stroke, everybody still thinks that he would have won the tournament outright. It would be quite a funny story if he would win here."
Among those trying to keep Johnson from winning his first major will be McIlroy, who has faced questions about the severity of his injury and his recovery.
Avoided Surgery
"It could have been much worse," said McIlroy, who has two wins and two third-place finishes in his seven previous PGA Championship appearances. "It could have required surgery. I thought I broke it."
McIlroy said he has no plans to quit playing soccer with his friends.
"I'm not going to stop doing what I do," he said. "I enjoy that part of my life, I enjoy having that normality in my life, something that I've done since I was a kid and I won't stop doing that."
McIlroy will be paired with Spieth and British Open winner Zach Johnson for the event's first two rounds. Spieth has missed the 36-hole cut in his two PGA starts and said he's anxious to end the streak and challenge for his first Wanamaker Trophy.
"It irks me a bit," Spieth said of his inability to qualify for weekend play in the event. "It's a bad feeling. It's one I don't want to experience."
The feeling isn't as bad as the pain Dustin Johnson has suffered through in numerous close calls at major tournaments in recent years.
In the 2010 U.S. Open, Johnson held a three-stroke lead after three rounds before finishing with an 82. At the 2011 British Open, he was in position to challenge leader Darren Clarke in the last round, only to hit a shot out of bounds on the 14th hole to end his chances. This year, he missed a 12-foot eagle putt on the 72nd hole of the U.S. Open and three-putted to give Spieth the win. Last month, he held the lead after two rounds of the British Open before finishing with rounds of 75 and 75.
Still, the laid-back South Carolina native said his fate in major tournaments hasn't bothered him.
"I'm just chilling," he said. "It's frustrating sometimes, but I try not to let it bother me. I love the game, and at the end of the day, it is just a game. So to get upset and get too worked up about it, I think it's not worth it."