Goldman to Buy GE Online Bank With $16 Billion of Deposits
Michael J. Moore and Richard Clough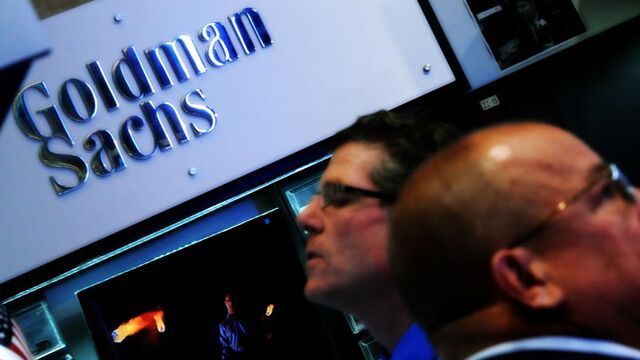 Goldman Sachs Group Inc. agreed to acquire an online banking unit from General Electric Co. that has about $16 billion of deposits, giving the Wall Street firm access to a cheap source of funding.
Goldman Sachs's banking subsidiary said Thursday it will take on $8 billion in online deposits and $8 billion of brokered certificates of deposit in the agreement with GE Capital Bank. Terms weren't disclosed for the purchase, which is subject to regulatory approval.
The securities firm has boosted its reliance on deposit funding since converting to a bank during the financial crisis. Its deposits more than tripled from 2008 to $89 billion at the end of June, cushioning a drop in secured funding and helping to finance an increase in loans.
"This transaction achieves greater funding diversification and strengthens the liquidity profile of GS Bank by providing an additional deposit-gathering channel," Liz Beshel Robinson, Goldman Sachs's treasurer, said in a statement.
The acquisition won't include any physical assets, and the only financial assets are cash associated with the deposits, Goldman Sachs said. Scott Roberts, president of GE Capital Bank, will join GS Bank, which is offering jobs to "substantially all" of the unit's employees.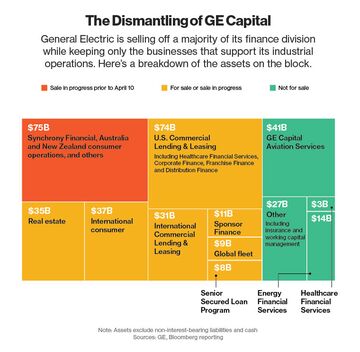 Regulatory Burden
GE plans to wind down the remaining operations of GE Capital Bank after the deal. Along with its pending disposal of Synchrony Financial, Thursday's deal will "facilitate our complete exit from U.S. banking operations, eliminate the exposure of the U.S. deposit-insurance safety net to GE Capital and thereby significantly reduce our regulatory footprint in the U.S.," Keith Sherin, GE Capital's CEO, said in a statement.
GE plans to dispose of about $200 billion of banking assets and focus on industrial operations after GE Capital's struggles during the financial crisis imperiled the parent company. GE also wants to shed its status as a systemically important financial institution, which brings heightened regulation.
That's a turnaround from just two years ago, when GE had acquired about $6.4 billion in deposits from MetLife Inc., the largest U.S. life insurer. MetLife was itself retreating from banking to limit regulatory oversight.
GE announced an agreement Tuesday to sell its health-care finance unit to Capital One Financial Corp. for about $9 billion. The Fairfield, Connecticut-based company will keep divisions that support manufacturing, including the aircraft leasing unit.
Goldman Sachs has taken some steps to operate more like a bank, even as it still derives a much smaller portion of its funding from deposits than commercial banks. The firm's loans have more than doubled in the past two years to $56.4 billion at the end of June.
While the purchase was pursued separately from Goldman Sachs's plan to develop an online lending platform, it could offer some benefits to that effort in the future, according to a person with knowledge of the deal. The bank hired Harit Talwar, the head of Discover Financial Services' U.S. cards division, earlier this year for the undertaking.
Before it's here, it's on the Bloomberg Terminal.
LEARN MORE