China Devaluation Is Blow to Cash-Strapped Argentina's Reserves
Daniel Cancel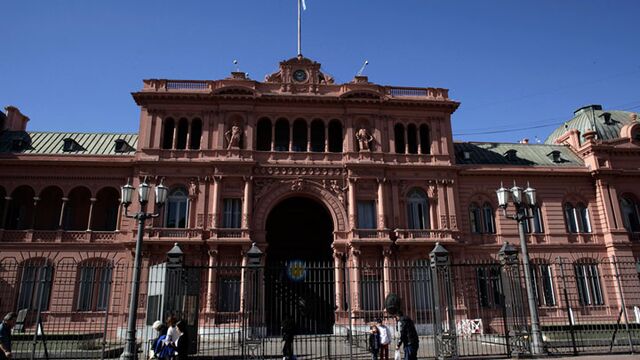 China's devaluation couldn't come at a worse time for Argentina.
About a quarter of the country's $33.7 billion of foreign reserves are now denominated in yuan, which suffered its biggest loss since 1994 on Tuesday.
The move is eroding the cash Argentina uses to pay its debt and comes as the nation is effectively shut out of overseas bond markets and struggling to defend its slumping peso at home. The country's yuan holdings have ballooned since it signed an $11 billion currency-swap agreement with the People's Bank of China in July.
"The underlying risks are now becoming more apparent," said Marcos Buscaglia, an economist at Bank of America Corp.
Buscaglia estimates that only $16 billion of Argentina's reserves is easily accessible, after excluding certain items such as bank deposits and its yuan holdings. That figure may fall below $10 billion by year-end after the government makes local dollar-denominated debt payments, he said. Reserves have slid $151 million this week, the most since May.
When asked to comment on how China's devaluation would affect Argentina's reserves, a press official for the central bank referred to a Tweet on Tuesday by the bank's president, Alejandro Vanoli. In that message, Vanoli said the country won't face any losses on its balance sheet from the currency-swap position with China. He didn't address the impact on reserves, which are reported separately and updated daily.
The South American country turned to China to bolster its financing sources after a legal dispute with hedge fund creditors led by billionaire Paul Singer led to Argentina's second default in 13 years.
Swap Agreement
Argentina has drawn about $8 billion from the three-year $11 billion swap agreement, but hasn't used the money or converted it into U.S. dollars, according to a bank official who asked not to be identified because he isn't authorized to speak publicly on the matter.
Argentina's $4.5 billion of dollar-denominated bonds due in 2024 have slumped 3 percent in the past month in part on speculation a government agency that owns the securities is selling the notes and using the greenbacks to prop up the peso. The central bank itself has already spent about $550 million this month to shore up the currency.
In the unregulated market Argentines use to sidestep the government's currency controls, the peso has sunk 12 percent in the past two months on concern presidential elections in October will fail to usher in a government able to quell surging inflation and boost a flagging economy.
No Devaluation
President Cristina Fernandez de Kirchner's government has pledged not to devalue the peso before elections on Oct. 25. Daniel Scioli, a member of Fernandez's party, is the front-runner after winning Aug. 9 primaries.
The government has let the official peso rate weaken just 10.4 percent in the past year as of 11:40 a.m. in New York on Thursday, compared with annual inflation estimated at 25 percent. Brazil, in comparison, its largest trading partner, the real has weakened 35 percent in that span.
"It's conceivable to see a draw-down of reserves as we get close to a new administration," said Marco Santamaria, a money manager at AllianceBernstein LP, which owns Argentine bonds. "It's pretty clear that ultimately some kind of currency adjustment will be necessary."