This British Supercar Will Make You Feel Like a Racing Driver
The BAC Mono is as close as you'll come to the Formula One cockpit
By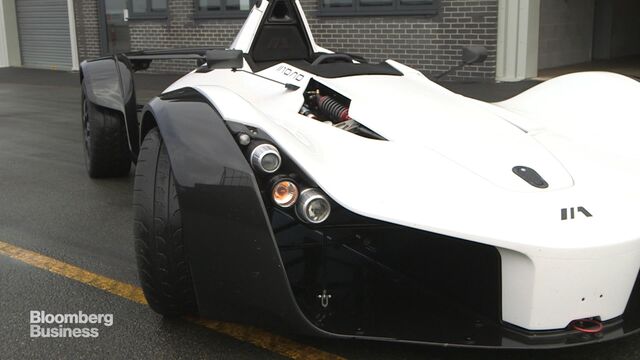 What do you do if your supercar isn't doing it for you? What if your Porsche, Ferrari or Lamborghini simply isn't enough? Where do you turn to scratch the itch?
Britain's Briggs Automotive Company (BAC) thinks the need for speed should take you straight to Liverpool, where the ambitious firm is building the Mono, a single seat, road-legal racing car.
From the outside the styling is striking, but it's the view from the driver's seat that really sets the pulse racing. It's probably about as close as you're going to get to feeling like a Formula One driver.
 This car is all about performance, which is why you will probably need to keep the Porsche, Ferrari or Lamborghini. Because while the Mono does have a customizable seat, steering wheel and a host of other bespoke items, it doesn't have much storage, a windscreen or a roof.
It is incredibly fast, though. Powered by a 2.5-liter Cosworth engine, manufacturers say the car goes from 0-60 miles per hour (0-97kph) in just shy of three seconds, with a top speed of 170mph. That puts it among any list of fastest production cars, though perhaps behind class leaders such as the Porsche 918 Spyder and the Bugatti Veyron Super Sport. 
Driving the car is an extreme experience. Once you have wiggled your way into the seat and strapped yourself in, you feel like a Formula One driver. The removable steering then comes next. It is is dotted with buttons and the unencumbered view of the track over it means all you can think about is the road ahead. Press the green "neutral" button and select first on the sequential gear box and you are ready to go.
BAC has already sold 60 cars and has orders for 200 more. But management is not satisfied with that early success. It's looking to raise money to ramp up production as it looks to crack Europe and America. The US market will get its first proper look at the car this week at the Pebble Beach Concours d'Elegance which runs until the 16th.
Before it's here, it's on the Bloomberg Terminal.
LEARN MORE