technology
S&P 500 Index Erases 1.5 Percent Drop Sparked by China Concerns
Oliver Renick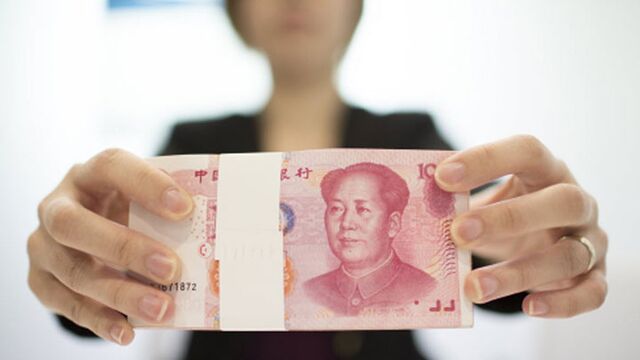 The Standard & Poor's 500 Index erased a 1.5 percent loss sparked by concerns on China's economy, as the gauge rose back above its average price during the past 200 days.
Energy companies led the comeback as some of the market's more beaten-down shares rallied. Exxon Mobil Corp. and Chevron Corp. advanced more than 1.1 percent. Apple Inc. climbed 1.5 percent, reversing an earlier 3.4 percent drop, and Intel Corp. rose 1.7 percent to pace gains among technology companies. Financials fell, with Bank of America Corp. and JPMorgan Chase & Co. losing more than 1.4 percent.
The S&P 500 advanced 0.1 percent to 2,086.05 at 4 p.m. in New York, erasing losses as it climbed back above its 200-day moving average. The Dow Jones Industrial Average slipped less than 1 point to 17,402.51, after dropping as much as 1.6 percent. The Nasdaq Composite Index rose 0.2 percent, erasing a 1.8 percent slide. About 8.3 billion shares traded hands today, 27 percent above the three-month average.
"It's been like a spectator sport today," said Tim Dreiling, senior portfolio manager at the Private Client Reserve of US Bank in Kansas City. The firm oversees about $127 billion. "It may have been buyers coming off technical triggers, but anytime over the last few years we get a disruption or tiny catalyst to take risk off the table, we get a hiccup and once the concerns abate throughout the trading day, capital comes in and gives some support."
The S&P 500 has closed below its 200-day moving average only two times in 2015, as the level once again halted declines in the average. The gauge has advanced 1.3 percent this year as it remains stuck in the tightest trading range since 1927. The last time the index erased an intraday decline of at least 1.5 percent was on May 23, 2012.
Rallies, Retreats
The U.S. equity benchmark dropped the most in more than two weeks Tuesday as China devalued its currency, sparking worries that the world's second-largest economy is faltering. The S&P 500 had the biggest reversal since last October's selloff, erasing three-quarters of Monday's gain -- an advance that itself had wiped out the previous week's decline.
Investors are watching as rallies and retreats alternate with uncommon speed in a market that has gone virtually nowhere in seven months, even as the average daily swing widened almost 20 percent from a year ago.
China's unexpected currency move has bolstered speculation the Federal Reserve may have to delay raising interest rates. The threat of a slowdown in China could harm global growth, while lower commodity prices damp inflation. The probability of a rate increase in September slipped to 42 percent from 54 percent Monday, according to futures trading data compiled by Bloomberg.
Energy Jumps
"It could have positive implications for the market because the Fed may be inclined to postpone raising rates, but I'm not sure how surprised they are by it," said Gene Peroni, a fund manager at Advisors Asset Management Inc. in Conshohocken, Pennsylvania. "Weakness in the Chinese economy didn't come about over the weekend."
The Chicago Board Options Exchange Volatility Index fell 1 percent Wednesday to 13.61, erasing an earlier jump of almost 19 percent. The gauge, known as the VIX, rose 10 percent last week after posting its biggest monthly drop since February.
Six of the S&P 500's 10 main groups rose today, led by energy, utilities and technology companies. Financial, consumer discretionary and phone companies fell.
Consol Energy Inc., Anadarko Petroleum Corp. and Transocean Ltd. added more than 3.4 percent to help lead the energy rally. The group gained 1.9 percent after falling as much as 0.8 percent intraday, and has had daily swings of more than 1.5 percent in four of the last five sessions.
Banks Slump
Qorvo Inc., Micron Technology Inc. and Intel rose at least 1.6 percent to bolster tech gains. Semiconductors in the S&P 500 climbed 1.1 percent. Fidelity National Information Services Inc. increased 8.7 percent, the most in five years, after the provider of banking technology agreed to buy software maker SunGard Data Systems Inc. in a deal valued at $9.1 billion, including debt.
Banks in the benchmark gauge retreated as the yield on 10-Year U.S. Treasuries earlier dropped to a three-month low. Lenders had surged in recent months amid expectations that a Fed rate increase will expand lending margins and boost profits.
Citigroup Inc., Bank of America and JPMorgan Chase lost more than 1.2 percent. Charles Schwab Corp. SunTrust Banks Inc. decreased at least 2.3 percent. The KBW Bank Index had its worst two-day slide in six months, down 3.1 percent.
Luxury goods makers Tiffany & Co. and Coach Inc. declined at least 4.1 percent to pace a retreat in consumer discretionary companies, amid concerns that China's weakening economy could dent sales. Michael Kors Holdings Ltd. fell for the first time in six sessions, down 2.1 percent.
Macy's Tumbles
Macy's Inc. tumbled 5.1 percent, the most in a year. The retailer posted second-quarter profit that missed analysts' estimates after resorting to discounts to clear slow-selling inventory. Delays at West Coast ports caused a backlog of seasonal products in the second quarter, forcing Macy's to cut prices to make way for new items.
As the earnings season nears its end, about three-quarters of the S&P 500 companies that have reported so far beat profit estimates, while almost half topped sales projections. Analysts expect a 2.1 percent drop in second-quarter earnings, less than July 10 calls for a 6.4 percent decline.
Investors will also watch economic reports this week, including U.S. retail sales and import-price data on Thursday, and industrial production and consumer sentiment on Friday. A report today from the Labor Department showed job openings decreased in June, while the pace of hiring increased to the strongest this year.
Before it's here, it's on the Bloomberg Terminal.
LEARN MORE