This Lender Is Being Investigated by the CFPB, and the Stock Got Crushed
World Acceptance's fate is likely to be closely watched since it taps into two key post-financial crisis trends
By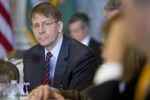 Nonbank lenders beware. The Consumer Financial Protection Bureau may be coming for you.
World Acceptance, an installment lender which offers short-term loans and credit insurance, has had what financial industry professionals might call a terrible, horrible, no good, very bad day.
Its stock fell by more than a third on Tuesday, after the company confirmed it is under civil investigation by the CFPB and that the regulator is considering legal action. 
While World Acceptance is relatively small, with a market value of just $305 million following Tuesday's drop, its fate is likely to be closely watched since it taps into two key post-financial crisis trends.
First, nonbank lenders have stepped into the breach to lend to risky borrowers no longer served by banks. Meanwhile, the CFPB, created at President Obama's urging in the aftermath of the crisis, has been increasing its scrutiny of 'small dollar, high-cost' lenders. World Acceptance appears to be another casualty of the new push.
"There's been a shift in subprime lending from the big banks to nonbank lenders since the crisis, and it's unsurprising that abuse is starting to surface," says David Schawel, portfolio manager at Square 1 Bank. "It will be a good trial to see if the CFPB has any teeth in monitoring this sector."
According to a document filed with the U.S. Securities and Exchange Commission, World Acceptance received a letter from the CFPB on Aug. 7 notifying the company that the regulatory group is considering legal action against it.
Here's more from the filing:
We are currently unable to predict the ultimate timing or outcome of the CFPB matter. The Company continues to believe that its marketing and lending practices are lawful. There can be no assurance, however, that the NORA Letter and the CFPB's exercise of its enforcement, regulatory, discretionary, and other powers will not result in enforcement actions, proceedings or litigation and the imposition of damages, fines, penalties, restitution, other monetary liabilities, sanctions, settlements or changes to the Company's business practices or operations, which could have a material adverse affect [sic] on the Company.
The company's stock closed up 1.12 percent on Wednesday.
Correction: This article has been corrected to remove references to World Acceptance as a payday lender. The company is technically an installment lender.