Emerging-Markets Veteran Sees Oil Falling to $30 by December
Bei Hu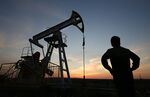 Robert Lloyd George, who at one time oversaw $17.7 billion in Asia emerging-markets assets, sees oil falling as much as another 30 percent this year and hitting $30 per barrel by December.
Oil will stay down as last month's deal curbing Iran's nuclear program in return for easing sanctions could expand supplies by as much as two million barrels a day at a time demand from China is slowing, Lloyd George said in an interview in Hong Kong. West Texas Intermediate for September delivery traded at around $43 a barrel on the New York Mercantile Exchange on Wednesday.
"It's a different era now; you have to think differently," Lloyd George said, calling the end of the growth cycle for metals and energy.
Lloyd George, a 24-year emerging-market veteran who is now building a new money manager, is more bearish on oil than strategists at JPMorgan Chase & Co. and Societe Generale SA. He has used the recent sell-off to scoop up Nasdaq-listed Chinese Internet and e-commerce companies, and also favors providers of electricity, water and logistic services.
Oil in both New York and London entered a bear market in July on speculation that the global surplus will be prolonged as Iran bids to restore output after its nuclear accord. Leading members of the Organization of Petroleum Exporting Countries are pumping oil at record levels to protect their market share.
Brent crude, the benchmark for more than half of the world's oil, traded around $49 a barrel in London on Wednesday. JPMorgan Chase lowered its second-half forecast for Brent average to $50 and WTI to $44, while Societe Generale cut its third-quarter forecast for WTI to $47.80.
Stock Picker
The 63-year-old great grandson of World War I era British Prime Minister David Lloyd George is building a new Hong Kong-based Asia and emerging markets asset manager, Lloyd George Advisory (HK). Lloyd George Management, which he founded in 1991 and had Eaton Vance Corp. as one of its stakeholders, became a specialist in Asia and global emerging markets and saw its assets peak in 2007.
Lloyd George left the firm in 2014, three years after BMO Financial Group bought it. Lloyd George Advisory oversees the $20 million Bamboo Fund, which invests in Asian and emerging markets stocks as part of the Luxembourg-based Argos umbrella fund. He hopes to boost assets under management to $100 million by year-end, with new funds it plans to offer focusing on medium-sized companies.
"I love picking stocks. I love running money. And I love Asia," he said.
Lloyd George shunned yuan-denominated class-A shares listed in China because they were over-valued when he started the fund in April, he said. A self-described believer in China, he said investors have to be very selective.
Cheap China
He started buying Nasdaq-listed Chinese companies that provide Internet, e-commerce, travel and tourism as well as wealth-management services in the final week of July after a domestic rout that wiped almost $4 trillion off the country's stock market value.
"I've never seen China so cheap before," he said. "The good companies got sold down 30 percent along with the junk in A shares. You can buy stocks on price-earnings of 10 times, growing 50 percent. And they have half of their share price in cash."
China now accounts for 15 percent of the fund's investments, which may rise to 20 percent, he added. It has about 20 percent of its investments in Japan, where the government is advocating corporate governance reforms.
It has a similar amount invested in India, where a narrowing current-account deficit is prompting interest-rate cuts and helping stabilize the currency, Lloyd George said. India will also be the biggest beneficiary of cheaper oil as it accounts for a bigger part of its import bills than neighbors China, Japan and South Korea, he added.