Jeb Bush Faults Obama and Clinton, But Not W., for Middle East Turmoil
The Republican presidential candidate lays out a vision of how to defeat the Islamic State in Iraq and Syria.
By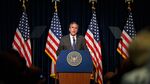 O brother, where art thou?
In a Tuesday speech at the Ronald Reagan Presidential Foundation and Library in Simi Valley, California, Jeb Bush criticized President Obama and Hillary Clinton as "failed peacemakers" in the Middle East who stood by as Islamic militants gained power in Iraq and Syria, but made no mention of his own brother, the man who invaded Iraq in 2003, former President George W. Bush. 
"Who can seriously argue that America and our friends are safer today than in 2009, when the president and Secretary Clinton—the storied 'team of rivals'—took office?" the former Florida governor asked in front of a full house of 1,000 people who attended his speech. "So eager to be the history-makers, they failed to be the peacemakers."
Bush's closest reference to his brother's experience in Iraq was a mention of "failures of intelligence." 
In his 30-minute speech, Bush outlined an assertive role for the U.S. in the Middle East, calling for American air power to support Iraqi troops, as well as a bigger presence of ground troops that would remain in Iraq "for the long haul," and for strengthening alliances with Egypt and and Saudi Arabia. To combat Islamic State fighters in Syria and topple the regime of President Bashar al-Assad, Bush said he advocated an effort bring moderate groups in the country, but did not supply further specifics. 

Bush, 62, drew his loudest applause when he issued his most direct critique of Obama's foreign policy, unequivocally promising to "immediately" work to undo the Iran nuclear agreement upon taking office. Under the pact announced by Obama in March, Iran would submit to international inspections of its nuclear program to ensure it remains peaceful and reduce its uranium stockpiles in exchange for the lifting of international sanctions.
In a question-and-answer session with Robert Tuttle, who was George W. Bush's ambassador to Britain and serves on the Reagan Foundation board, Bush twice said the U.S. shouldn't be content to be part of the "community of nations" and "lead from behind." Tuttle didn't ask Bush about wars in Iraq waged by his brother and father, George H.W. Bush, and the presidential candidate did not take questions from the audience or reporters.
"I would say the Obama-Clinton foreign policy would be one based on grandiose talk and little action," Bush said. "We have to lead this."
Before Bush spoke, Jake Sullivan, a senior policy adviser to Clinton's presidential campaign, said the former secretary of state and first lady was braced for "false attacks" from Republicans on foreign policy.
"It's curious that Governor Bush is choosing Iraq as the place where he wants to engage in a foreign policy debate," given his brother's presidency, Sullivan said. "It's an attempt to rewrite history. They might hope we'll all forget but the American people will remember."
At the Reagan library, Karen Faland of Huntington Beach said Bush's family ties are a plus. Faland, 50, who was accompanied by her husband Tony, said at the same time that Jeb Bush isn't responsible for his brother's foreign policies.
"He doesn't need to take ownership of what other people have done, including his own family," Faland said in an interview. "The Republican Party should stand behind him."
Faland said foreign policy hasn't gotten the attention it deserves in the presidential race, given the continued carnage in parts of Syria and Iraq and potential nuclear threats from Iran. She said Bush's speech set a positive tone. Tony Faland said he would have liked to hear Bush discuss other issues as well.
The audience, who paid $65 a person to hear from Bush and eat Texas-fare—broiled nopales, enchiladas, and avocado Caesar salad—afterward, applauded respectfully and chuckled at one point when Bush said Obama had characterized Iran's mullahs as a "stabilizing force." Before Bush spoke, the audience watched televised tributes to Reagan from current and former officeholders including three of Bush's Republican primary rivals, Chris Christie, Marco Rubio and Mike Huckabee.
—Jennifer Epstein and Michael C. Bender contributed to this article.