politics
Clinton Campaign Takes Its E-Mail Case to Supporters in Lengthy Message
The effort to prepare her fans for water-cooler conversations comes as one member of Congress calls for a criminal investigation.
By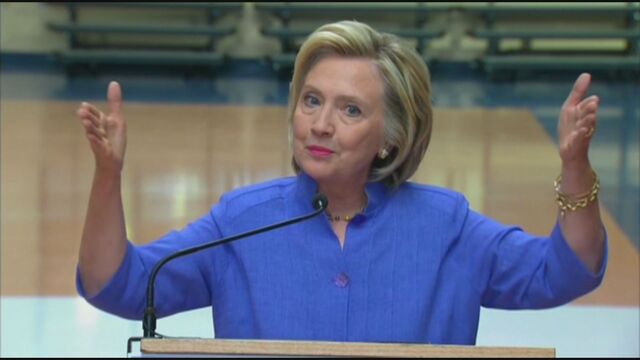 Hillary Clinton's presidential campaign shifted into damage control mode on Wednesday as an investigation into her use of private e-mail during her time as secretary of state heats up and Republicans attack her from the campaign trail.
In an e-mail to supporters Wednesday afternoon, communications director Jennifer Palmieri tried to offer reassurance, arguing that scrutiny of Clinton's e-mail account is nothing more than a Republican effort to do political damage to the Democratic front-runner.
"This kind of nonsense comes with the territory of running for president. We know it, Hillary knows it, and we expect it to continue from now until Election Day," Palmieri wrote. 
Aware that "you might hear some news over the next few days about Hillary Clinton's emails," Palmieri said she was reaching out to explain Clinton's side of things and urged supporters to study her explainer to cut through the "misinformation" and "absorb the real story so that you know what to say the next time you hear about this around the dinner table or the water cooler."
Within hours of the message being sent, one Republican lawmaker was calling for the Justice Department to launch a "criminal investigation" into the Clinton emails and suggesting that federal law enforcement had been foot-dragging on the case. "If any other American had shown the same disregard for securing classified information that Hillary Clinton sowed, the United States government would move quickly and decisively to hold them responsible," said Representative Darrell Issa of California. "Months after we learned about Clinton's secret e-mail server, the FBI and DOJ have finally mustered the motivation necessary to take it into their custody."
The Clinton campaign's 720-word message—far from the types of fundraising appeals or e-mail-gathering gimmicks that presidential campaigns typically send to supporters—came a day after Senate Judiciary Committee Chairman Chuck Grassley, an Iowa Republican, made public a letter from the Intelligence Community Inspector General saying that classification experts had determined that two e-mails that passed through Clinton's private server contained information that should have been labeled as top secret, the highest general level of classification.
Just as that news broke, Clinton's campaign said that she has "directed her team to give her email server that was used" while she was secretary of state to the Justice Department, as the FBI investigates the potential mishandling of classified information. The campaign has framed the handover as voluntary and has not responded to questions about whether it was compelled by the Justice Department.
Clinton said last month she was confident that she "never sent nor received any information that was classified at the time it was sent and received."
A Monmouth University poll released Wednesday and conducted before Tuesday's developments found that 52 percent of Americans say Clinton's e-mails should be the subject of a criminal investigation to determine whether classified information was mishandled. Thirty-eight percent of those surveyed said Clinton's reliance on a private account instead of an official State Department one suggests she has something to hide, while 51 percent sided with Clinton's argument that she used the private account out of convenience.
Republicans were quick to pounce from the campaign trail.
"This is a serious and potentially criminal offense that proves Hillary Clinton put her own personal convenience ahead of the safety and security of the American people," Wisconsin Governor Scott Walker said in a statement.
Clinton "committed a crime," billionaire Donald Trump said Tuesday night on Fox News, but that it's unlikely that Democrats, who "are all the prosecutors," will prosecute her.
"The fact is that, you look at what Hillary Clinton has been talking about and not talking about—unwilling to answer the Keystone Pipeline, now her server has been turned over to the FBI," New Jersey Governor Chris Christie  told conservative radio host Laura Ingraham Wednesday. "Bernie Sanders is drawing 15-20,000 people because even the Democratic Party has figured out that she has no business being president of the United States."
Anticipating Republican attacks, Palmieri noted that "many of the Republican candidates for president have done the same things for which they're now criticizing Hillary."
"As governor, Jeb Bush owned his own private server and his staff decided which emails he turned over as work-related from his private account. Bobby Jindal went a step further, using private email to communicate with his immediate staff but refusing to release his work-related emails. Scott Walker and Rick Perry had email issues themselves," she said.
Clinton's reliance on her private e-mail account while at the State Department came to light as the House Select Committee on Benghazi conducted its probe into the Sept. 11, 2012, attacks in the Libyan city. 
Clinton and her allies have long said the committee is politically motivated, an argument that Palmieri repeated in her message. The panel, she said, is "spending nearly $6 million in taxpayer money to conduct a partisan witch-hunt designed to do political damage to Hillary in the run-up to the election."
—With assistance from Terrence Dopp and Billy House.
(Adds Issa comments.)
Before it's here, it's on the Bloomberg Terminal.
LEARN MORE