China's Gargantuan Aluminum Exports Poised to Get Even Bigger
By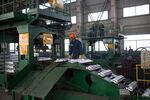 China's ballooning exports of aluminum will probably get even bigger because of the surprise yuan devaluation.
The country is the world's biggest producer of the metal, which is used in everything from beverage cans to airplanes. Many Chinese producers haven't cut output even amid slumping prices, partly because of government subsidies, according to Goldman Sachs Group Inc. Domestic demand has weakened at the same time, spurring a flood of aluminum to the global market. 
China's shipments in 2015 through July surged 28 percent from last year, to a record. With this week's yuan devaluation, the aluminum market should brace itself for even more supplies, because the weaker currency will lower domestic production costs.

"It's clearly bearish, because at the margin, it lowers domestic cost of production in dollar terms," Stephen Briggs, an analyst at BNP Paribas in London, said in a telephone interview. "It is an encouragement to export" more, he said.
Aluminum for delivery in three months tumbled 14 percent this year to $1,589 per metric ton on the London Metal Exchange as of Wednesday.
The average cost to produce primary aluminum in the country dropped by $12 a ton, to $1,728, after China devalued its currency's fix against the dollar by 1.9 percent, according to Harbor Intelligence. The firm estimates that a 10-percent devaluation versus the dollar would cut output costs by a further $50, to $1,678 a ton. 
Through July, China exported 2.87 million metric tons of unwrought aluminum and aluminum products in 2015, according to customs data. That was the highest for the first seven months in a year since comparable data began in 1999.
"This devaluation is aimed at restoring some of China's lost export competitiveness," Jorge Vazquez, Harbor's managing director, said in a research report on Tuesday. "China's ongoing structural economic slowdown, overcapacity and overproduction will remain major drivers behind falling commodity prices ahead."