China's Ailing Growth Fuels Surge in Emerging-Market ETF Hedges
Callie Bost and Aleksandra Gjorgievska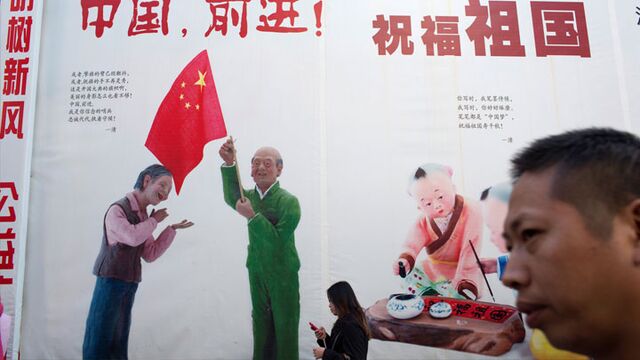 Emerging-market equities' descent into a bear market amid a slowdown in China's economy has ignited hedging in a popular exchange-traded fund.
The Chicago Board Options Exchange Emerging Markets ETF Volatility Index, which tracks hedging costs on the iShares MSCI Emerging Markets fund, jumped to the highest level in 18 months versus a similar gauge for the Standard & Poor's 500 Index.
Investors in the ETF are bracing for more swings as they watch China's deteriorating economy drag down developing markets amid the Federal Reserve's intentions to tighten monetary policy for the first time in more than nine years. The MSCI Emerging Markets Index slid 1.1 percent Tuesday, dropping 20 percent below its September high, the threshold for a bear market.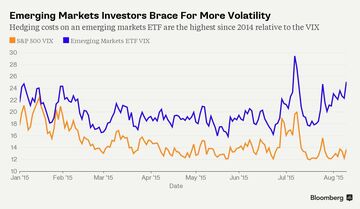 "It's tough to get excited about emerging markets right now," said Tim Ghriskey, who helps oversee $1.5 billion including developing-nations stocks as managing director and chief investment officer at Solaris Asset Management. "China is a big economy and the slowdown in growth, combined with the deflating of its equity and real-estate markets, means slower growth in a lot of emerging markets."
Yuan Devaluation
Global markets were jolted Tuesday after Chinese policy makers unexpectedly devalued the yuan in the most dramatic downward move in two decades, stepping up their efforts to support exporters and boost the role of market pricing in the world's second-largest economy. The CBOE emerging-markets gauge rose to 25.12, 1.8 times the S&P 500 Volatility Index, which climbed to 13.71.
The emerging-markets VIX rose 6 percent to 26.61 at 4 p.m. in New York as the MSCI gauge slid 1.9 percent.
China's policy shift follows economic reports this month showing a plunge in overseas shipments, weaker-than-estimated manufacturing and slowing credit growth. A more than 30 percent rout in the country's stock market from June to July could curb consumer spending in the coming months.
The economic slowdown there has shown in commodity prices, which have dropped to the lowest levels in 13 years. The weakness has weighed on raw-material exporters from Brazil to Mexico and South Africa.
"There has been a lot of concern that the drop in commodity prices is going to weigh down on emerging-market economies more than on developed market economies, since developed markets are bigger consumers than producers," said Brian Jacobsen, chief portfolio strategist at Wells Fargo Funds Management.
Adding to the pain is the expectation that the Fed will soon embark on the first interest-rate increase since 2006, threatening to lure capital away from developing nations. The U.S. central bank's first increase could come as early as September, with federal funds futures contracts pricing in a 46 percent chance they will hike borrowing costs at that gathering.
Currencies Bleed
While China's woes and concerns about higher interest rates have rattled the U.S. stock market, the S&P 500 is still 2.2 percent from an all-time high reached May 21. The American equities VIX has averaged 14.1 since that record, about six points below its historical mean.
The yuan's devaluation could provide a needed kick-start for developing nations. In a Tuesday interview with Bloomberg TV, BlackRock emerging-market portfolio manager and strategist Pablo Goldberg said it is too early to speculate about the impact of the devaluation on the emerging market sphere.
"The positive comes if this finally gets the Chinese economy going," Goldberg said. "If this will end up bringing higher growth for China, this will be good for the world."
China's unexpected move also bolstered speculation the Fed may delay raising interest rates as a slowdown overseas could hurt America's economy, while lower commodity prices damp inflation. Treasuries rallied on Tuesday, sending the yield on 10-year notes down to the lowest since May 29.
Currency Markets
Options traders' recent caution in the iShares ETF isn't surprising to Cantor Fitzgerald LP's Peter Cecchini. The prospect of higher U.S. interest rates and slowing economic growth overseas have roiled emerging-market currencies all year, making it only a matter of time before the turbulence caught up to equities.
In 2015, the dollar has strengthened versus all 24 of the emerging-market currencies in a basket maintained by Bloomberg. The Brazilian real has weakened the most against the greenback, slipping 24 percent, while the Mexican peso, South African rand and Turkish lira have slid more than 9.5 percent.
"Currency volatilities have bled into equity markets in emerging-market countries," Cecchini said. "That is because of fears of higher U.S. rates. Capital flows out of emerging markets and into the U.S. when rates here rise."
Before it's here, it's on the Bloomberg Terminal.
LEARN MORE