Roach Sees Currency Wars Just Getting Worse After Yuan Decision
Justina Lee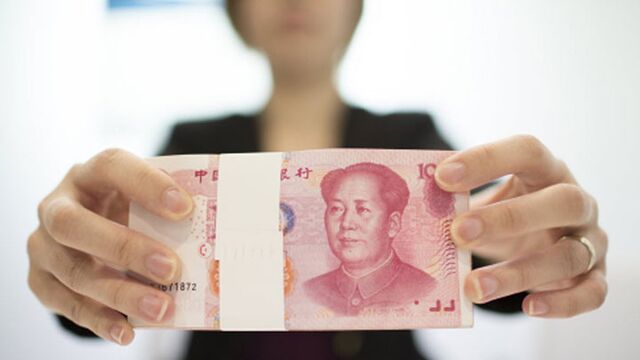 China's shock move to devalue the yuan risks opening a new front in a currency war that stretches from the euro zone to Japan as nations look to energize their economies.
The People's Bank of China slashed the yuan's fixing by a record 1.9 percent on Tuesday, sparking the currency's biggest one-day loss since the official and market exchange rates were united in 1994. It triggered the steepest selloff among Asian currencies in almost seven years, led by slides in South Korea's won and the Taiwan and Singapore dollars. The euro and the yen tumbled 18 percent against the greenback in the past 12 months as monetary policies diverged in the U.S., Europe and Japan.
"In a weak global economy, it will take a lot more than a
1.9 percent devaluation to jump-start Chinese exports," said Stephen Roach, a senior fellow at Yale University and former Morgan Stanley non-executive chairman in Asia. "That raises the distinct possibility of a new and increasingly destabilizing skirmish in the ever-widening global currency war. The race to the bottom just became a good deal more treacherous."
China's devaluation shook global markets just as the currency war appeared to be losing steam in Asia, with Australia and New Zealand toning down calls for weaker rates and Japan refraining from expanding stimulus this quarter. Even with almost all major currencies losing ground against the dollar this year amid rising expectations for increased borrowing costs in the U.S., China maintained a de facto peg since March amid a push for the yuan to win reserve status at the International Monetary Fund.
'China Blinked'
"They built into the market an expectation that they were keeping the currency stable," said Ray Farris, global head of currency strategy in Singapore at Credit Suisse Group AG. "Then all of a sudden they blinked. Because they blinked today, markets will continue to look for similar conditions in the future. If exports are falling off a cliff, then against the background of this development, markets will expect more" depreciation, he said.
A report on Saturday showed Chinese exports shrank 8.3 percent in July, compared with a Bloomberg survey's median estimate of a 1.5 percent. The yuan's real effective exchange rate, a measure adjusted for inflation and trade with other nations, climbed 13 percent over the last four quarters and was the highest among 32 major currencies tracked by Bank for International Settlements indexes.
Global Use
The depreciation pressure on Asian currencies from China's action should fade as the nation isn't aiming at engineering a much weaker yuan, HSBC Holdings Plc analysts led by Paul Mackel wrote in a note. Doing so would contradict the goal of promoting greater global use of the yuan, they wrote.
More than 20 central banks from India to South Korea have loosened monetary policy this year to spur growth and fend off deflation, leaving the U.S. and possibly the U.K. as the only major economies likely to raise rates this year. The consequent dollar strength prompted Federal Reserve officials to comment on its damage to U.S. exports earlier this year, casting doubt over whether it would go ahead with tightening in 2015.
"The devaluation signals the PBOC's eagerness to join the global currency wars," Credit Agricole CIB strategists led by Valentin Marinov wrote in a note Tuesday. "With the competitive devaluation gaining momentum but global trade slowing, the latest yuan devaluation could be seen as likely to force other central banks to consider similar measures before long."
A gauge of Asian currencies headed for the biggest drop since 2008 on Tuesday. Taiwan's dollar slid to a five-year low, while Korea's won fell to the weakest level since 2012. The yuan fell 1.8 percent to 6.3231 a dollar in Shanghai. It earlier declined 2.1 percent.
"A stable yuan had served as an anchor of some sorts for the rest of Asia," said Khoon Goh, a strategist at Australia & New Zealand Banking Group Ltd. in Singapore. "This is no longer the case."
-- With assistance from Kevin Hamlin in Beijing.