These Women Backing Donald Trump Are Sticking With Him (Mostly)
For some Republicans, Trump's entertainment value is too great to dismiss him from the race.
By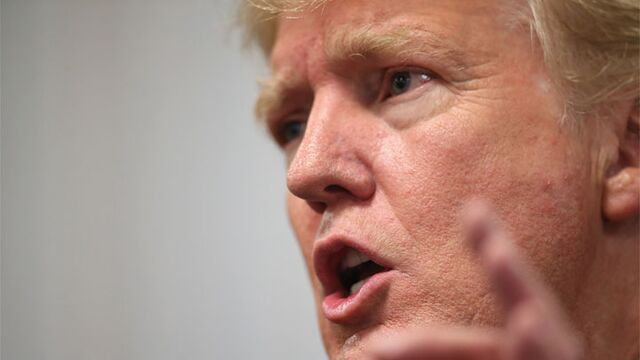 Grace Grey grew up in the 1950s, as, she says, "blonde and hot and with a chest." Inappropriate comments from men started when she was in eighth grade, and increased with such uncomfortable intensity that she promised herself as a teenager to do whatever a man could, but better. She raced cars, worked on motorcycles, put herself through school and made sure her three daughters did, too.
Now, the 72-year-old Republican is backing Donald Trump's bid to become her party's presidential nominee despite accusations that disparaging comments he's made about women could hurt the party. She was among several women who told Bloomberg pollsters this year they backed Trump or were open to his candidacy, and were contacted again on Monday to see if they were still interested in his campaign following the billionaire's controversial comments.
Most were.
"Donald is just old-fashioned," Grey, who lives in Bangor, Maine, said in an interview. "Some of his terminology is from a bygone era, not in-the-now. It wasn't appropriate, but I understand why he got angry. She was asking insulting questions."
The "she" who Grey referred to is Megyn Kelly, the Fox News moderator who pressed Trump during the Republican presidential debate on Thursday about derogatory language he used to describe women. Trump, 69, said after the debate that the question wasn't fair. He went further on Friday, ridiculing Kelly. "You could see there was blood coming out of her eyes," he said on CNN on Friday night. "Blood coming out of her wherever."
Also on Bloomberg Politics: Here Are the Questions Donald Trump Was Asked at the Fox Debate
The comment was interpreted by many—including influential conservative Erick Erickson, editor of the website RedState—as referring to women's menstrual cycle. Trump denied the accusation, but still was barred from attending the annual RedState convention in Georgia over the weekend as Republicans debated—once again—whether combative language from the celebrity real estate mogul was hurting the party. 
"Republicans have enough trouble with women, if you look at our support with women voters," former New Jersey Governor Christine Todd Whitman, now chairwoman of the Republican Leadership Council, said in an interview. "Given his other comments that he's made about women, he doesn't get much of a pass on this one."
Interviews with Trump supporters, like Grey, suggest otherwise.

Bloomberg reached seven women on Monday who participated in past Bloomberg polls this year. Just one said she had given up on Trump.
"I like that he was outspoken, and brought up issues that others weren't bringing up, but he's going too far now," said Doralyn Underberg, a 69-year-old retiree in Clive, Iowa. "You can't act like he is and lead a country. You can't just go after people like that. Our allies wouldn't stand for that, or at least they shouldn't."
The other six, however, were quick to defend him, saying the billionaire was baited into the back-and-forth with Kelly, that his unfiltered approach was refreshing and that the race is infinitely more interesting with him in it.
"I do think he's a straight idiot, but I'm going to hang on to Donald Trump for another minute," said Jacqueline O'Neal, a 48-year-old dog breeder in Vidalia, Georgia. "He's the only one that can straighten out this country."
Also on Bloomberg Politics: Trump Refutes Reports That He May Rule Out Third-Party Run
O'Neal said Kelly was "out for blood" and trying to discredit Trump. She said Trump probably was referring to a woman's menstrual cycle, and that he would have a point. "I'm a woman, and I don't think women should be president," O'Neal said. "Women are unstable. Once a woman hits that PMS moment, she might nuke someone."
Stephanie Baker, a 24-year-old college student in Sioux City, Iowa, said Trump put Kelly "in her place." "She was getting a little brave," Baker said. "She walks around like her sh-t don't stink, and why should Donald Trump be nice to her when she treated him like that? He calls it like it is."
Asked about Trump's history of referring to women as pigs, dogs and slobs, Baker stood up for her pick. "I'm not saying it doesn't bother me, but I don't know the context of those comments," she said. "He could have been joking, and those women could have been laughing."

Kathy Hampton, an in-home health aide in North Carolina, said Trump is "the most honest" of all the Republican contenders. "No, what he said was not appropriate, but each president in my lifetime has said something that wasn't appropriate," the 56-year-old said. "Our country is in piss-poor shape. Donald Trump is a good businessman and we need someone who can go in there and straighten it out."
Marie Murphy, 72, said Trump was still her first choice. They only thing that's changed for her since the debate? She'll no longer watch Kelly's show on Fox. "She was just trying to make a name for herself," Murphy said. "I think he brings a lot of excitement, and needs to continue on."
But Murphy, a retired legal secretary in Delaware, said she has a limited amount of patience. Like most of the women interviewed for this story, Murphy said she has drawn a mental line, and will abandon Trump if he crosses it. "You can't go with someone who is going to say everything he thinks when he's angry," Murphy said. "He just needs to step back, count to 10, and not blurt everything out."
Several of the women said they were put off by Trump's statement during the debate that he may run as an independent if he doesn't get the party's nomination. That made them question Trump's loyalty to the party, and said such a move would help Democrats win their third consecutive presidential race for the first time in 75 years. 
But would they still support Trump as an independent?
"Wow," O'Neal, the Georgia dog breeder, said after a long pause while considering the question. "Yeah, I would support him. I've been a die-hard Republican all my life. But he's not doing this to pad his pockets, he don't need your money. And we can't do no worse than the last four years."
Even Grey, who said she lived much of life pushing back against male chauvinism, said she'd consider an independent bid from Trump.
"He just stirring the pot, probably like Elvis," Grey said, comparing Trump to the King of Rock and Roll. "They couldn't rein him in, either."
—Ali Elkin contributed to this report.
CORRECTION: An earlier version of this story misspelled Erick Erickson's last name.