Terex to Merge With Konecranes Amid Competition From China
Aaron Kirchfeld, Ed Hammond and Matthew Monks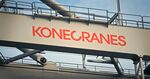 Terex Corp., a U.S. maker of cranes and construction machinery, agreed to combine with Finnish competitor Konecranes Oyj to create a crane and materials-handling supplier with a combined $10 billion in sales and greater global reach.
Terex stockholders will receive 0.8 of a Konecranes share for each of their shares, the companies said in statements Tuesday. That values Westport, Connecticut-based Terex at about $30.19 a share, based on Monday's closing price for Konecranes, or 38 percent above where Terex shares finished the day.
The alliance is a response to a slowdown in demand for lifting gear and heightened competition from Chinese manufacturers, which have increased capacity and are looking further afield for contracts amid the prospect of a slowing domestic market. The companies have highlighted $121 million in annual savings as they combine their operations.
"The combined company will benefit from increased scale as the industry has become more competitive over the last decade with low-cost emerging market players entering the scene," Stephen Volkmann, an analyst at Jefferies, wrote in a report Tuesday.
Merger of Equals
The companies described the transaction as a merger of equals. Terex stockholders will own 60 percent of the combined business, which will be incorporated in Finland and called Konecranes Terex Plc. Terex will nominate five directors on the nine-member board, with Konecranes choosing four. Konecranes Chairman Stig Gunnar Gustavson will have the same position after the merger.
The combination creates a "more diverse company that will be in an excellent position to succeed in a dynamic and highly competitive global industry," Terex Chief Executive Officer Ron DeFeo, who will hold the same position at the new company, said in the statement.
Terex already played an active role in consolidation in the industry when it bought Demag Cranes AG of Germany in 2011. It had to raise its offer to win over management of Demag, which also attracted an approach from Konecranes. Other suppliers of material-handling gear for construction, mining, shipping and refining include Palfinger AG of Austria and Kion Group of Germany.
Konecranes jumped 19 percent to 33.23 euros as of 4:45 p.m. in Helsinki, giving the company a market value of 2.1 billion euros ($2.3 billion). Terex surged 18 percent to $25.73, valuing the company at $2.8 billion.
Tax Angle
By moving Terex out of the U.S., the combination may bring tax benefits. The corporate tax rate in Finland is 20 percent, while in the U.S. it's 35 percent. Still, in practice it's more complicated: Konecranes paid tax at an effective rate of 31.5 percent in the first half of the year, while Terex's tax rate was 27.7 percent in the second quarter. Still, Terex projects some improvement.
"Within two to three years of closing, we can move the aggregate tax rate fairly conservatively into the mid-20s from a combined 31 percent, 32 percent today," Kevin Bradley, the company's financial chief, said on a conference call with analysts.
The new company will buy back $1.5 billion of stock and pay an annual dividend of $1.15 a share.
Choosing Finland allows Terex "to return more cash to shareholders, as demonstrated by a large share-buyback and a higher dividend yield," according to Matt Miller, a Denver-based equity analyst at S&P Capital IQ.
A significant amount of Terex's cash balance is held in foreign countries, and this deal will give it a low-cost option to gain access to those funds, Miller said.
Shipyards, Ports
Konecranes, which serves manufacturing and process industries, shipyards, ports and terminals, signaled on July 17 it's premature to call a recovery in European markets and said North America had seen some sluggishness. Volumes in China in the second quarter were quite low amid uncertainties surrounding the economy, and new lower-cost products are being developed to address "really tough" price pressure, it said.
The Finnish company had revenue of about 2 billion euros, compared with Terex's $7.3 billion, and about 12,000 employees in almost 50 countries, according to its website. Last month, it hired Panu Routila as CEO. Routila will join the company soon and serve as CEO until the deal is completed in the first half of 2016, he said in an interview.
Credit Suisse advised Terex on the deal, with Fried, Frank, Harris, Shriver & Jacobson LLP, Bryan Cave LLP and Avance Attorneys Ltd. providing legal counsel. Perella Weinberg Partners advised Konecranes, which got legal advice from Skadden, Arps, Slate, Meagher & Flom LLP and Roschier, Attorneys Ltd.