Iran Deal Rejection Could Erode Dollar Eventually, John Kerry Says
Terry Atlas and Calev Ben-David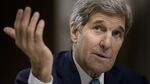 Secretary of State John Kerry offered a new warning about the consequences if Congress rejects the Iran nuclear deal, saying that could add to international sentiment to curtail the U.S. dollar as the global reserve currency.
"That is a recipe, very quickly, my friends, businesspeople here, for the American dollar to cease to be the reserve currency of the world, which is already bubbling out there," Kerry said Tuesday in New York. "And if the United States were to behave that way, not only would we have lost them with respect to the sanctions, but we will lose their support if we have to use military action."
While President Barack Obama and other administration officials have offered increasingly emphatic warnings about the implications of Congress rejecting the accord negotiated between Iran and six world powers, Kerry was the first to tie it to the dollar's standing.
He subsequently backtracked during his remarks at a forum sponsored by Reuters, saying any diminution of the U.S. dollar's role is "not gonna happen overnight." Rather, he said, killing the deal may strengthen efforts over time by Russia, China and other nations to undermine U.S. economic power.
"There will be an increase in this notion that there ought to be a different reserve currency because the United States is misbehaving and not in fact, you know, living by the agreements that it negotiates itself," he said. "So it has broad implications.
Link 'Weak'
Domenico Lombardi, a former executive board member at the International Monetary Fund, said Kerry seems to be overstating the potential challenge to the dollar in order to build the case for the Iran deal.
''This may be politically legitimate but, from an economic standpoint, the link is weak to say the least,'' Lombardi, now director of the global economy program at the Centre for International Governance Innovation in Waterloo, Ontario, said in an e-mail. ''So far no other country boasts the liquidity, depth and openness of the U.S. markets.''
But Edwin Truman, a former U.S. Treasury official who is now a senior fellow at the Peterson Institute for International Economics in Washington, said Kerry's comment passes ''the logic test'' since using financial sanctions ''on a sustained basis tends to provide an incentive for countries to abandon the dollar as an international currency.''
Critics of the Iran deal are wrong on many points, including the idea that it will be possible to negotiate a better one, Kerry said.
''That is not going to happen,'' he said.
Current Sanctions
Instead, allies would be likely to abandon the current sanctions on Iran, putting them, their businesses and their banks in jeopardy of being hit by U.S.-imposed sanctions for dealing with Iran, Kerry said.
The top U.S. diplomat said there would be consequences if the U.S. walks away from a deal and then tells allies and other nations, including China and India, ''You're going to have to obey our rules on the sanctions anyway.''
Kerry said he is ''quite confident'' that efforts to block the deal will fail. Obama has said he would veto a congressional resolution rejecting the accord if one is sent to him.
That would set up an effort to override the veto requiring two-thirds votes in both the Senate and House.
During a visit to Israel, House Republican Majority Leader Kevin McCarthy said Tuesday that there's a chance Congress can muster enough Democratic votes to override a veto.
Israel Trip
''I'm basing that on what I hear from the other side of the aisle, from individual members who talk to me," McCarthy, who is leading a visit of 36 GOP House members to Israel, said in an interview in Jerusalem. The trip, like one for House Democrats last week, is sponsored by an offshoot of the American Israel Public Affairs Committee, which is leading the lobbying effort against the accord.
At least eight House Democrats, including New York Representative Eliot Engel, and that state's senior Democratic senator, Charles Schumer, have announced they will oppose the agreement.
"When you look at an Eliot Engel or a Schumer, they are leaders in their caucus, this is an issue they lead on when it comes to foreign policy," said McCarthy, a California lawmaker.
Schumer has told reporters in recent days that he will share his views on the Iran deal with colleagues but also that "any attempt to twist arms or be heavy handed on a vote of conscience backfires," according to Matt House, an spokesman.
Nuclear Weapons
In New York, Kerry said the deal assures the world that Iran won't be able to race toward nuclear weapons undetected, not just for 10 to 15 years, but indefinitely under an intrusive inspection regime by the International Atomic Energy Agency.
While critics have raised concerns that Iran will get as much as $150 billion in unfrozen assets under the deal, Kerry and other administration officials have said the available funds are closer to $50 billion.
Kerry said Tuesday that Iran has enormous domestic needs for whatever assets it receives, including as much as $150 billion to $200 billion for its oil infrastructure "just to bring them back to where they were five years ago."
"There's some things that are classified, that I can't go into, that indicate to us the truth of where this money will go," he said. "And we're inviting senators and congressmen to come in and look at this classified material, because it's very instructive with respect to what's happening in Iran today, and people need to see that in order to be able to vote properly."