politics
Hillary Clinton Instructs Aides to Hand Over E-Mail Server to Justice Department
The Democratic front-runner also will also provide a thumb drive to the DOJ that contains copies of her electronic correspondence.
By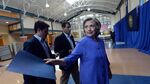 Hillary Clinton has directed her aides to hand over to the Justice Department a private e-mail server that she used during her tenure as secretary of state, her presidential campaign said Tuesday.
Spokesman Nick Merrill confirmed Clinton's request and said the Democratic front-runner has also asked that the department be given a thumb drive that contains copies of her e-mails.
Clinton has "pledged to cooperate with the government's security inquiry, and if there are more questions, we will continue to address them," Merrill said.
Clinton's promise to to hand over the server and thumb drive came after the Intelligence Community Inspector General sent a letter dated Tuesday to Senate Judiciary Committee Chairman Chuck Grassley, an Iowa Republican, saying intelligence community classification officials had identified materials in two out of four suspect e-mails that had gone through her private server that "include information classified up to 'TOP SECRET//SI/TK//NOFORN.'" That designation indicates secret information, including imagery from spy satellites, that is prohibited from being sent to foreign nationals. 
"This information revealed by the inspector general makes it even more important that the FBI and the State Department secure these documents," Grassley said in a statement. "To date, the two agencies most critical to securing this information have failed to assure the American people that they are taking the necessary steps to protect America's national security interests."
Clinton's leading Republican critics in the House took credit for the latest development, suggesting that the decision to turn over the e-mail server represented a vindication for the special committee that has taken the lead on pressing for the former secretary of state's e-mails.
"The Select Committee supports the Justice Department and FBI review of the potential mishandling of top secret intelligence information in former Secretary Clinton's emails," said Jamal Ware, a spokesman for Chairman Trey Gowdy of South Carolina and other Republicans on the House Benghazi committee, on Wednesday.
"Chairman Gowdy and the Members of the Select Committee have been calling on Secretary Clinton to turn over her server to a neutral third party for independent forensic examination for months, and nothing relative to our conduct of the investigation will change because she is finally doing what the committee long ago suggested," said Ware in a e-mail.
The panel is investigating the terror attacks in Benghazi, Libya that left a U.S. ambassador dead while Clinton was heading the State Department. Clinton is set to testify before the committee on October 22.
House Speaker John Boehner noted that the Benghazi committee Republicans have been calling for Clinton to turn over her server to a neutral third party. But for now, at least, he was expressing satisfaction with her decision to hand the server to the Justice Department. "It's about time," said the Ohio Republican, adding: "Secretary Clinton's previous statements that she possessed no classified information were patently untrue. Her mishandling of classified information must be fully investigated."
On Wednesday, Boehner spokesman Kevin Smith said the speaker"supports the FBI's investigation into the matter," and added that the Benghazi committee's "investigation will continue."
Earlier this year, a judge ordered the State Department to release the 55,000 pages of work e-mails Clinton had provided to the agency and Clinton called on the agency to release the documents as quickly as possible. 
But the e-mail release sparked new questions from government watchdogs over whether Clinton sent or received classified information over her non-governmental e-mail system. That's led to an FBI probe of her e-mail system.
In a statement Tuesday, State Department spokesperson John Kirby noted that the two e-mails determined to have contained top secret material were "not marked as classified" when they were sent between State Department employees and ultimately forwarded to Clinton.
The two e-mails, from 2009 and 2011, were identified before they were made public as part of the department's monthly releases of Clinton e-mails. "While we work with the Director of National Intelligence to resolve whether, in fact, this material is actually classified, we are taking steps to ensure the information is protected and stored appropriately, Kirby said.
Clinton said last month that while the Intelligence Community and the State Department could have subsequently determined that some material in her e-mails was classified, she was confident it wasn't categorized as such at the time it went through her server. "I am confident that I never sent nor received any information that was classified at the time it was sent and received," she told reporters in Winterset, Iowa.
"What I think you're seeing here is a very typical kind of discussion—to some extent disagreement—among various parts of the government over what should or should not be publicly released," she added then.
—John Walcott and Billy House contributed to this article. 
(Updates with latest comment from House Benghazi committee Republican spokesperson starting in seventh paragraph.)
Before it's here, it's on the Bloomberg Terminal.
LEARN MORE