Eskom Pushes for Higher Power Tariffs as Annual Profit Tumbles
Paul Burkhardt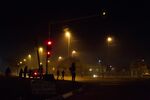 Eskom Holdings SOC Ltd. needs to charge more for its electricity if it's to meet demand and end blackouts, the South African state-owned utility said after annual profit fell by almost half.
Eskom wants a "cost-reflective" tariff, the Johannesburg-based company said Tuesday in a presentation.
The utility, which provides about 95 percent of South Africa's electricity, is grappling for funds to supply enough power to drive the continent's most industrialized economy. It has imposed rolling blackouts almost every other day this year.
Eskom won approval last October to increase tariffs by an average 13 percent starting in April. The regulator in June denied it permission to raise fees further, saying its application for a boost of as much as 25 percent was incomplete.
"They have not refused us the money," acting Chief Executive Officer Brian Molefe said at the company's headquarters on Tuesday. "What was in dispute was the timing," he said, without elaborating.
Net income fell to 3.62 billion rand ($286 million) in the 12 months through March from 7.09 billion rand a year earlier, Eskom said. Operating costs rose 13 percent, while primary energy expenses climbed 19 percent, above inflation.
Earnings were hurt by reduced sales as platinum miners went on strike and other mining and metals companies consumed less electricity, while the regular power cuts also eroded revenue.
Eskom, which relies on coal for 80 percent of its power generation, is in a dispute with Glencore Plc's Optimum Coal unit over a two-decade-old supply deal.
The utility is seeking 2 billion rand in penalties from Optimum for the poor quality of its coal. That claim would effectively see Optimum supply coal for 1 rand a metric ton, according to Glencore, which says the contract has caused "severe financial hardship" at the unit.
"We are not in the position to relieve anyone of any obligation," Eskom's Molefe said Tuesday.
The utility has a 225 billion-rand funding shortfall for the five years through 2018.