The 'Death Cross' Forms on the Dow Chart
Joseph Ciolli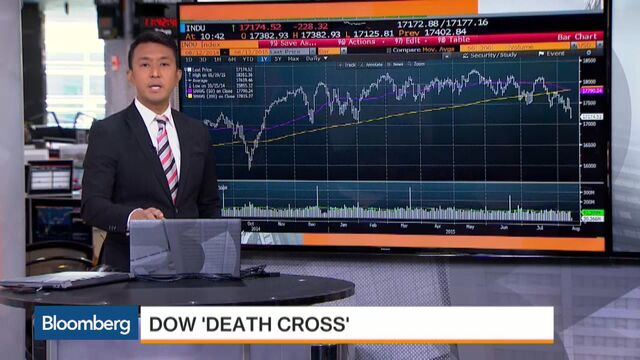 The Dow Jones Industrial Average's biggest decline in a month is proving the final nail in its death cross.
That's what technical analysts call it when the 50-day moving average falls below the 200-day mean, a formation that was achieved today as the gauge declined for the eighth time in nine days. The pattern is commonly interpreted as a signal price momentum is fizzling out.

"If you don't make any upside progress, the moving average will start to flatten and eventually turn down," Jonathan Krinsky, chief market technician at MKM Holdings LLC, said by phone. "There are fewer and fewer stocks holding up the market, and that's generally not a good thing."
The 30-company Dow's moving averages have been on a collision course since Apple Inc., which has the eighth-heaviest weighting, dropped 7.4 percent on July 22. The iPhone maker tumbled another 4.9 percent today, bringing its decline from a February high to 14 percent.
Before it's here, it's on the Bloomberg Terminal.
LEARN MORE