China's Export-Boosting Yuan Move Cloaked as Bold Market Reform
Enda Curran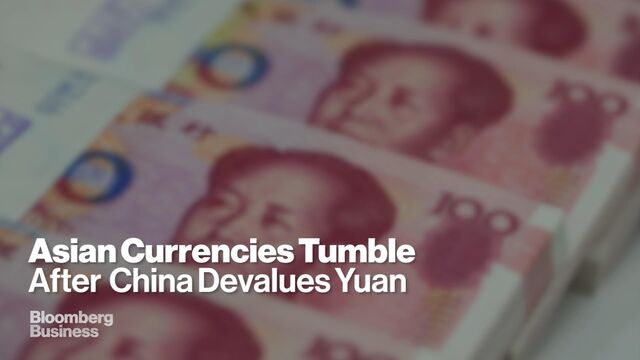 In suddenly weakening the yuan, China's central bank is mixing economic pragmatism with reform. It has devalued its currency in the most dramatic downward move in two decades to give the ailing export sector a lift, and at the same time is able to pitch the move as liberalization.
Whether global currency traders and China's trading partners buy that explanation is another matter.
By allowing markets a bigger role in valuing the yuan exchange rate, the People's Bank of China is ticking off a box in its campaign to internationalize its currency. Central to this plan is a bid to have the yuan accepted by the International Monetary Fund into its basket of reserve currencies, known as the Special Drawing Rights or SDR. That would place the yuan on par with the dollar, euro, yen and British pound, and boost China's global stature.
China's central bank has typically kept a tight rein on movements in its currency, setting a daily rate for the yuan and the dollar, sometimes in defiance of market forces.
Market-makers who submit prices for the PBOC's reference rate will now have to consider the previous day's closing rate, demand and supply, and changes in major currencies. Previous guidelines had no mention of these criteria.
Economists at UBS Group AG said that although they expect authorities to take a cautious approach, the PBOC's move has the potential to be a "sea change" in its exchange rate policy if it triggers significant near-term depreciation.
Convenient Reform
The central bank cut its daily reference rate for the currency by a record 1.9 percent and called the change a one-time adjustment, saying it will strengthen the market's ability to determine the daily fixing.
That's an important market reform that may help win over the IMF. Conveniently for the PBOC it should also bolster exports, which slumped 8.3 percent in July from a year earlier.
The yuan's real effective exchange rate -- a measure that's adjusted for inflation and trade with other nations -- climbed 14 percent over the last four quarters and was the highest among 32 major currencies tracked by Bank for International Settlements indexes.
"The central bank would never admit they are weakening the currency to help exporters, but clearly they're complaining about the real effective exchange rate's strength," said Dariusz Kowalczyk, a Hong Kong-based strategist at Credit Agricole CIB. "It is a way to kill two birds with one stone."
Currency Optics
Authorities have been opening up financial markets by easing restrictions on foreign investors and promoting the yuan as an international currency. Yet a recent report by the IMF said China has more work to do before the yuan can be included.
To some, China's move echoes past currency wars in which governments actively sought to devalue in a bid to help their exporters. Economists at JP Morgan Chase & Co in a note to clients asked "Did the PBOC open a Pandora's box?" and said it was "first and foremost an 'economic move.'"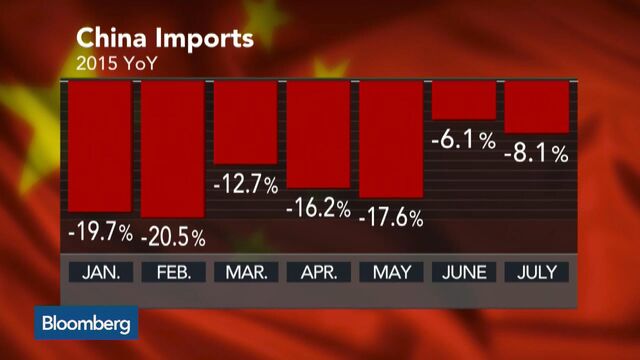 "Other Asian countries will see today as a competitive devaluation from China," the bank's analysts said.
Weaker exports are robbing China of a key source of growth and threatening the government's 7 percent growth target for this year. Policy makers have responded by cutting interest rates to record lows and ramping up targeted lending programs, but so far the moves have struggled to gain traction.
Limited Impact
The PBOC's move may not be enough to spur a revival in export growth overnight. For that to happen, the currency would need substantial weakening, according to economists.
"With wages rising at double digit rates, I don't really think that a 2 percent depreciation against the U.S. dollar is going to make a huge amount of difference to Chinese exporters," said Klaus Baader, chief Asia-Pacific economist at Societe Generale SA.
The move also sparks the risk that a flood of money could leave the country as investors look to park their cash offshore. A 1 percent drop against the dollar triggers about $40 billion in capital outflows, according to Tom Orlik, chief Asia economist at Bloomberg Intelligence.
"Economic reality and pressure from exporters is forcing Beijing to encourage currency weakness," said Andy Mantel, founder and chief executive officer of fund manager Pacific Sun Advisors in Hong Kong. "This is a tool China is reluctantly using as it wants to be seen as a fair market player."
Read this next: