American Apparel Plummets as Cash Dwindles Amid Wider Losses
Matt Townsend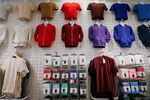 American Apparel Inc. plunged 37 percent after posting a wider second-quarter loss and saying that it's in talks with lenders to avoid defaulting on its credit line.
The retailer said Tuesday in a filing that it's seeking waivers for some financial-ratio requirements in its credit line with Capital One Financial Corp. Standard General, the hedge fund that has already loaned American Apparel $25 million, intends to buy all of Capital One's loans, the retailer said.
The discussions have delayed American Apparel from completing its official second-quarter earnings report, and the company provided only preliminary results in Tuesday's filing. The net loss expanded to about $19.4 million from $16.2 million a year earlier. Revenue sank about 17 percent to $134 million, the fourth straight decline. No analysts' estimates were available for comparison.
The Los Angeles-based clothing maker has been in turmoil since it suspended and then fired founder and Chief Executive Officer Dov Charney for alleged misconduct. Charney, who was replaced as CEO by Paula Schneider, has sued over his ouster and said the allegations against him are baseless.
While the company was losing money under Charney, the losses and the stock decline have accelerated since his departure.
The shares sank to about 13 cents on Wednesday and are now down 87 percent this year.
Strategic Alternatives
American Apparel said it also is working with advisers on potential strategic and financial alternatives, which may include refinancings, raising new capital or restructuring existing debts.
Moody's Investors Service cut American Apparel's ratings by one notch to Caa3 in response to the disclosures.
"The fact that Standard General intends to step into Capital One's shoes as revolver provider by purchasing its interests further heightens the risk of a restructuring as the specter of a loan-to-own scenario increases, which we believe would significantly impair existing bondholders," Moody's said in a report.
The company has racked up more than $300 million in losses since 2010, spurring it to raise cash several times. Earlier this year, it started selling shares on the open market. In July, the company said it couldn't guarantee it would have enough cash to meet funding requirements for the next 12 months.
Interest Payment
American Apparel strengthened that language in Tuesday's filing by saying that it "does not currently expect" to have enough cash for the next year. In October, the company owes a debt interest payment of about $13.9 million. The company said it had an estimated $7 million in cash as of June 30 and $6 million in available borrowings from the Capital One facility.
Schneider and Chairman Colleen Brown have embarked on a turnaround plan that includes cutting costs by eliminating jobs and closing stores. The chain also has toned down its sexualized marketing to broaden its appeal and worked to revamp several processes, including forecasting and budgeting.
As for the clothes, Schneider has refocused on basics as well as discounting and discontinuing items that weren't selling well. Clearing out the old inventory has hurt profit margins, which narrowed again in the second quarter.