U.S. Stocks Jump Amid Berkshire Deal as Commodity Shares Rally
Oliver Renick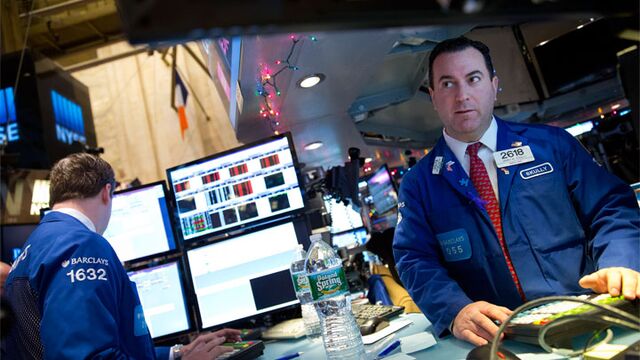 U.S. stocks gained, with equities rising the most in three months, after Warren Buffett's Berkshire Hathaway Inc. agreed to buy Precision Castparts Corp. and commodities-related shares rallied.
Precision Castparts, a maker of equipment for the aerospace and energy industries, jumped 19 percent on the $37.2 billion deal to pace industrials. Boeing Co. advanced 2.4 percent. Energy and raw-materials shares climbed more than 2.5 percent. Apple Inc. rose the most in six months, bouncing after its worst week since January. Google Inc. advanced in late trading after announcing a new holding structure.
The Standard & Poor's 500 Index climbed 1.3 percent to 2,104.18 at 4 p.m. in New York, its biggest gain since May. The Dow Jones Industrial Average halted its longest losing streak since 2011, adding 241.79 points, or 1.4 percent, to 17,615.17. The Nasdaq Composite Index climbed 1.2 percent, and the Russell 2000 Index surged 1.3 percent, the most in a month.
"China started it off with a 5 percent rally, there was another test of the S&P 200-day moving average, plus merger activity with Berkshire and PCP kind of gave the market an excuse to rally," said Mark Kepner, an equity trader at Themis Trading LLC in Chatham, New Jersey.
China's stocks posted their biggest gain in a month amid speculation the government will accelerate mergers of state-owned enterprises to bolster economic growth. Investors also speculated China will act to prop up growth following a wider-than-expected drop in exports.
Google Change
Google rose 4.7 percent as of 5:01 p.m. after saying Alphabet Inc. will replace Google Inc. as the publicly-traded entity and all shares of Google will automatically convert into the same number of shares of Alphabet, with all of the same rights. Google will become a wholly-owned subsidiary of Alphabet. Two classes of shares will continue to trade on Nasdaq as GOOGL and GOOG.
The S&P 500 dropped 1.3 percent last week while the Dow posted its longest losing streak in four years, amid a slump in media and biotechnology shares and as Apple Inc. fell into a correction. The S&P 500 has trailed most developed-market gauges this year, while speculators' appetite for stock-market volatility has reached a nine-year high. The gauge closed Monday 1.3 percent below its May record.
Investors will watch economic reports this week, including U.S. retail sales data on Thursday, after a report Friday showed a broad-based gain in hiring. The jobs data boosted the chance of a Federal Reserve rate hike in September by four percentage points to 54 percent, according to futures trading data compiled by Bloomberg.
Fed's Fischer
Fed Vice Chairman Stanley Fischer said in a Bloomberg Television interview Monday that stubbornly low inflation in the U.S. won't persist with the economy near full employment. The Fed is looking for signs that inflation will strengthen toward its 2 percent target before it starts to increase rates.
Kraft Heinz Co. is among companies reporting earnings on Monday, with those from Macy's Inc. and News Corp. due later this week.
Most S&P 500 members have released results this season, of which 74 percent beat profit estimates and about half topped sales projections. Analysts now project a more modest drop in second-quarter earnings, calling for a 2.1 percent fall instead of a 6.4 percent decline a month earlier.
The Chicago Board Options Exchange Volatility Index fell 8.7 percent Monday to 12.23. The gauge, known as the VIX, rose 10 percent last week after posting its biggest monthly drop since February. About 6.5 billion shares traded hands on U.S. exchanges, in line with the three-month average.
Nine of the S&P 500's 10 main groups climbed today, with energy, raw-material and industrial shares rallying the most. Utilities lagged, following the sector's best week in more than two months.
Energy Rebound
A Goldman Sachs Group Inc. measure of the most-shorted stocks rallied 2.6 percent for its best day since February as many of last week's biggest decliners reversed. Apple, which had entered a correction after plunging 13 percent from a high, rallied 3.6 percent Monday.
The energy group posted its biggest jump in nearly seven months, with oil rebounding as China's crude imports surged to a record on a monthly basis. Consol Energy Inc., Diamond Offshore Drilling Inc. and Transocean Ltd. advanced at least 5.4 percent
"Energy prices have been guiding us up or down for awhile and with energy names leading the way, nothing is really down," said Thomas Garcia, the head of equity trading at Santa Fe, New Mexico-based Thornburg Investment Management Inc. "At this point investors want to get the rate hike done and move on, and with commodity prices moving up a little that's a good thing, as they've gotten just decimated over the last year."
Industrials, Materials
Shares of industrial companies gained 1.9 percent, the biggest jump in seven months. Joy Global Inc. added 8.4 percent, the most in more than three years, and Caterpillar Inc. climbed 3.7 percent as the group got a boost from Precision Castparts' 19 percent climb and speculation on further stimulus in China.
"One of the biggest fears in the marketplace is not so much the Fed, it's the slowdown in China," said Andrew Brenner, the head of international fixed income for National Alliance Capital Markets. "If all of a sudden people think the Chinese are going to have serious stimulus, that's going to turn things around."
Materials companies also advanced the most this year, adding 2.5 percent as copper rose from a six-year low after torrential rains in Chile halted work at some of the world's biggest mines. Miner Freeport-McMoRan Inc. rallied 11 percent, the most in six years. Alcoa Inc. rose 7.1 percent, its best rise since October 2013. The Bloomberg Commodity Index jumped 2.4 percent, the biggest climb in six months.
Texas Instruments Inc. gained 3.5 percent to the highest in more than a month after the shares were raised to outperform from neutral at Macquarie Research. Semiconductors in the benchmark index had their strongest gain in more than two months. Intel Corp. and Avago Technologies Ltd. climbed at least 2.6 percent.
Dean Foods Co. shares lost 2.9 percent after the company declined to offer an explanation for the sudden resignation of its board chairman. Shares earlier fell nearly 18 percent before trimming their decline.