business
Try Solving This Insanely Hard Puzzle From Wall Street's All-Night Scavenger Hunt
The operative word is "try"
By
Midnight Madness, Wall Street's all-night puzzle-solving escapade-slash-scavenger hunt, took place over the weekend.
This year's event, held in aid of Good Shepherd Services, saw 21 teams from banks that included Citigroup and Credit Suisse Group, plus hedge funds such as PDT Partners, Secor Asset Management, and Bridgewater Associates, compete for glory. Pine River Capital Management was first to cross the finish line. Congrats to them, because these puzzles are hard. How hard, you ask? Below is a sample puzzle kindly donated by Bloomberg News's Amanda Gordon, who spent a very late night following the contest's progress across Manhattan. Take a look, or try to solve it. It should give you some idea of the intellectual madness of this particular event.
Remember you're solving the puzzle to figure out
the location

of the next clue. Scroll down for hints and answers.


Lateral thinking not working for you? Here are some hints.

Still don't get it? Perhaps this will help. Here are the slogans.

Still don't know? Just give up already. Here's the answer:

And here's a blurry photo of 711 Fifth Avenue, the location of the next puzzle.

See? Snakes. Duh.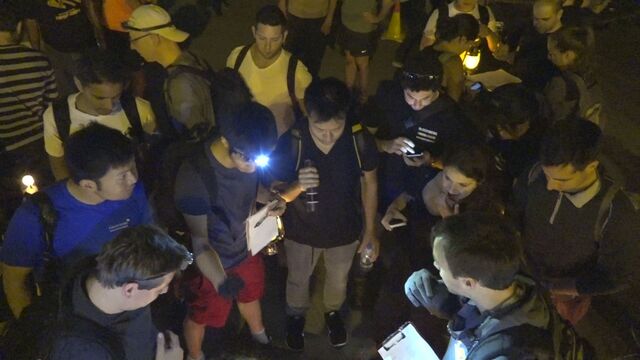 Before it's here, it's on the Bloomberg Terminal.
LEARN MORE