Ohio Default Shows Why Commercial Mortgages Worry Fed
Matt Scully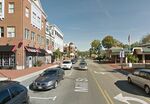 Just outside Columbus, Ohio, the small city of Gahanna seemed to be catching a break in its decade-long struggle to transform an underused strip of downtown into a district of retail shops, high-end condominiums and restaurants.
With a second developer to pick up where a predecessor failed, the project, known as Creekside, found a new backer last year: Wall Street's $100 billion-a-year securitization machine for commercial mortgages. A $25 million loan from UBS Group AG was quickly scooped up with five dozen others, bundled and sold to pension funds and money managers as bonds with ratings as high as AAA.
Within six months, the developer defaulted. The loan's set to be auctioned on Wednesday, and bondholders are facing potential losses. For analysts and investors that have tracked the rapid growth of commercial-mortgage backed securities since the crisis, the failure is raising questions not just over how the loan could sour so quickly, but whether it's a harbinger of more widespread pain.
"This is a bigger story that can be tied into the performance of loans sold into commercial mortgage-backed securities," said Richard Hill, a Morgan Stanley analyst who's been raising concerns that Wall Street is financing increasingly risky property deals. Loosening standards are resulting in "faster defaults than what was observed prior to the financial crisis and potentially higher cumulative losses over time than the market may expect," he said.
Underwriting Standards
Banks are selling CMBS at the fastest clip since 2008, thanks in part to a seventh year of near-zero interest rates that have investors lining up for higher-yielding securities.
That's allowing lenders to originate riskier loans that they know they can offload on Wall Street, where the debt is bundled into securities and sold to investors such as mutual funds or pensions.
Last month, Federal Reserve Chair Janet Yellen used the central bank's semiannual report to Congress to warn of the threat of an overheated CMBS market in a still-recovering U.S. economy.
"Valuation pressures in commercial real estate are rising as commercial property prices continue to increase rapidly, and underwriting standards at banks and in commercial mortgage-backed securities have been loosening," the policy makers wrote.
Levered Up
The risks can be seen in measures such as the leverage in the bond deals, which are surpassing the peak running up to the financial crisis.
Or it can be found in the types of mortgages being financed, such as retail malls besieged by online shopping or hotels in crowded markets such as New York. Banks are also loading more bond deals with properties in regions that are less economically diverse and slower to recover in a downturn.
The combination of these risks make it more likely that weaker borrowers will be unable to refinance once the Fed starts raising interest rates.
With the development in Ohio, what's concerning analysts like Morgan Stanley's Hill is the speed at which its developer defaulted -- less than nine months into the nine-year loan made by UBS to Strathmore Development Co. of East Lansing, Michigan.
Deutsche Bank
By the time the payments stopped, UBS had already sold the loan to Deutsche Bank AG. The Frankfurt-based lender then packaged the debt into a $1.2 billion securitization. Those bonds were sold in March 2014 to investors including Pennsylvania's State Workers' Insurance Fund and a unit of life insurer Prudential Financial Inc., according to data from regulatory filings compiled by Bloomberg.
If the Creekside financing is successfully auctioned on Wednesday, it would be one of the 10 fastest loan liquidations in this kind of mortgage-backed security ever, including those that soured during the financial crisis, said Morgan Stanley's Hill.
"This is particularly concerning," he said.
Executives at AllianceBernstein LP, which purchased the lowest-ranked bonds of the securitization and may see an immediate loss if the Creekside loan is disposed, declined to comment. The investment firm owned at least $14 million of the bond deal as of last quarter.
'Appealing' Yield
The allure of such investments is simple, said Sara Goulet, a spokeswoman for the State Workers' Insurance Fund in Harrisburg, Pennsylvania, which owns low-rated sections of the deal sold by Deutsche Bank.
"A very small percentage of our SWIF portfolio is the low-end of investment grade," she said. "But the 6 percent yield of that investment is appealing."
Back at Creekside, a handful of ground-level spaces have become vacant since the developer defaulted, according to a store manager at the site who asked not to be named and a Bloomberg property report from July 15. "It is clear the former management company renegotiated a number of leases, and the operations are less profitable than at origination," read the report.
Deutsche Bank has been among the most aggressive CMBS underwriters, posting the highest percentage of underperforming loans in the securities, 21 percent, among all U.S. CMBS deals sold in 2013 and 2014, according to Trepp data gathered by Nomura analysts.
That 21 percent figure matches the portion of debt Deutsche Bank has underwritten "pro forma," defined by Moody's Investors Service as an underwriting method based on "unproven, optimistic projections for future property performance," according to Nomura. That compares with about 5 percent of GE Capital's commercial mortgages underwritten in that way. Deutsche Bank spokeswoman Oksana Poltavets declined to comment.
It's an "abundance of capital" that is helping fuel CMBS growth, said Richard Coppola, head of capital markets for TIAA-CREF, which finances developments of office space, retail shops, large industrial spaces and apartment-building style housing. He views big banks as his biggest competition.
"They're willing to accept lower yields," he said. "That's hard to compete with. You'd think they'd pull back, but we don't see those signs."