The Easiest Way to Navigate Municipal Websites: A Super Smart Computer
Turns out, IBM's Watson is not just for beating humans at Jeopardy!
By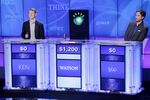 Local government websites are notoriously difficult to navigate. If you don't know the right words to describe your service request, you end up clicking from department to department, stumbling through a bureaucratic no man's land you might have avoided by Googling your issue instead.
It doesn't have to be this way. The city of Surrey, British Columbia, has heard your cries and souped up its municipal app to respond to 3-1-1 requests the way real people phrase them: as questions. Powered by IBM's Watson computing system—which famously defeated humanity on Jeopardy!—the My Surrey app is the first of its kind to interpret natural language and reply with information on city services.

The app has been called "Siri for cities," but its conversational skills aren't quite so refined. Watson reads the key terms in your question and spits out relevant information from the Surrey government website. To enter voice commands, you have to turn on your smartphone's speech-to-text capability separately.
Expect a few glitches this early in the game—the app launched a few weeks ago and had trouble with simple queries like "How do I apply for a driver's license?" (Watson replied with an excerpt from a hiring FAQ page for the Surrey fire department.) Sometimes it takes multiple steps to reach the information you need, with the answer linking to a webpage or a separate municipal app. But Surrey IT manager Sean Simpson says the city is working to integrate these apps and functions to make the process as seamless as possible.
Watson is also getting smarter. With every question you submit, the app asks for feedback on the answer, helping the system "learn" over time. Simpson explains: "In cases where the answer is wrong or no answer was available due to the lack of information that Watson knows about, we will manually add in new content to allow Watson to respond correctly in future." In the meantime, you can consult Watson's FAQ page to find answers to queries that have worked in the past.
3-1-1 apps are nothing new. As CityLab's Sarah Goodyear reported, cities have been using mobile technologies to field non-emergency queries since 2009. The 3-1-1 system, first launched in Baltimore in 1996, was itself an improvement on the city services apparatus. Surrey's Watson-integrated, human-oriented approach feels like the next logical step in this history of innovation. Brian Hurley, CEO of the tech firm Purple Forge, which developed My Surrey, told Ottawa Citizen that the goal is to "cut down on the number of calls coming into city-owned services such as 3-1-1, saving a city as much as $6 per call … and reduce reliance on telephone-based services."
Watson may not be a substitute for 3-1-1 in its current form, but it can be a useful guide to Surrey's municipal services—and save you the trouble of Googling. Just don't count on its sense of humor.