pursuits
Russia's Caviar Is Coming From Italy
John Follain and Flavia Rotondi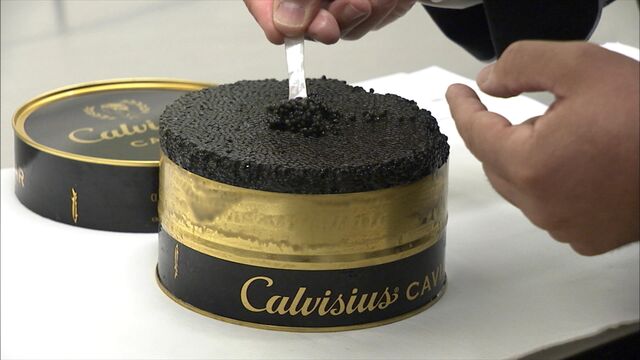 Vladimir Putin is determined to make European exporters pay for the West's opposition to his Ukraine policy. Up to a point.
When Russia imposed a trade embargo on imported foods in August last year, caviar was spared from the list, helping an Italian sturgeon farm to infiltrate Putin's homeland. From a standing start in 2012, Agroittica Lombarda SpA, Europe's biggest producer of the "food of the Czars," now counts Russia as the most important country destination for its luxury product.
But there's a trick. "We've had to put a Russian brand name on the tin, and we don't put 'Made in Italy' on it," said Lelio Mondella, managing director of Agroittica.
"The Russians want to eat Russian caviar. I understand that. Who would buy mozzarella cheese made in Russia?" Mondella said as he sampled four kinds of his Calvisius caviar in 10 gram (0.35 ounce) tins priced from 20 euros ($21.90) to 80 euros apiece.
Russia's $1.1 trillion economy contracted the most since 2009 in the second quarter amid an oil and currency rout exacerbated by tit-for-tat sanctions against the European Union and the U.S. that prompted a ban on imports from French cheese to Polish cabbage. Caviar was exempted since Russia already had to look abroad for the delicacy after low stocks led to a prohibition on wild sturgeon fishing in the Caspian Sea.
"Rich and powerful Russians can't do without it, so they have made an exception," Mondella said.
'Now Squeeze'
Using a mother-of-pearl spoon -- metal would spoil the taste -- he delicately scooped out a blob of the tiny black pearls, placed the salt-cured eggs on to the back of his left hand, a practice said to enhance the flavor, then closed his lips over them. "First you roll the eggs between the tongue and the palate," he said. "Now squeeze."
Opened in the small town of Calvisano, east of Milan, in the late 1970s when a steelmaker started breeding fish in the hot water from his works, the farm produces some 25 tons of caviar a year.
Sixty acres of spring-water tanks are home to sturgeon which take from eight to 20 years to produce the eggs, with the most-prized Beluga breed taking the longest.
The farm supplies first class on airlines -- its biggest market -- plus luxury hotels, restaurants and millionaires among others. Its top offering is a 1.8 kilogram (4 pound) tin of Beluga caviar at 14,000 euros.
Chinese Bourgeoisie
Caviar has long been an Italian delicacy, not just a Russian or Iranian one. Legend says Renaissance artist Leonardo da Vinci gave the Milanese duchess Beatrice d'Este a sturgeon's egg in a box encrusted with precious stones.
There are no certified figures for global caviar production, but according to the France-based Federation of European Aquaculture Producers (FEAP), Italy sold 42 tons in 2014, behind leader China at 54 tons. Russia was third at 40 tons.
"The 2008 financial crisis did hit the caviar sector, but the market has picked up again," said Laurent Sabeau, who heads FEAP's committee on sturgeons. "The sector will grow because some countries are becoming consumers. If the Chinese haute bourgeoisie start eating caviar, that will be huge."
The Russian economy shrank 4.6 percent in the second quarter after Putin's support for Ukrainian separatists drew condemnation, and successive rounds of trade sanctions, from Western nations. Crude oil, Russia's main export earner, has plunged 58 percent since June 2014 as the ruble has been this quarter's worst-performing currency after the Malawian kwacha.
Camouflaging Origin
In spite of the Russian ban on EU agricultural products, the value of overall exports from the 28-nation bloc has risen 5 percent since the embargo was instituted, according to the European Commission. While Russia has become Agroittica's biggest territory, exports there are forecast to fall to 2.5 tons this year from 3.7 tons in 2014 due to the economic slump.
Mondella proudly recalls a Russian acquaintance offering him "a great Russian caviar" at a dinner on a yacht off Sardinia's Emerald Coast two summers ago. Mondella tasted it, then lifted the tin and looked underneath. The code number revealed it was his.
For Michele Costabile, a professor of marketing at the Luiss University in Rome, "camouflaging" the caviar's origin shows Italy is getting its own back on Russia.
"Russia is full of pizza and pasta which have vaguely Italian names but are in fact clumsy imitations made in Russia," he said. "Two can play that game."
Read this next:
Before it's here, it's on the Bloomberg Terminal.
LEARN MORE