Why Marco Rubio May Have Won the First Republican Debate
It was Donald Trump's show, but the Florida senator made the case that only he can beat Hillary Clinton.
By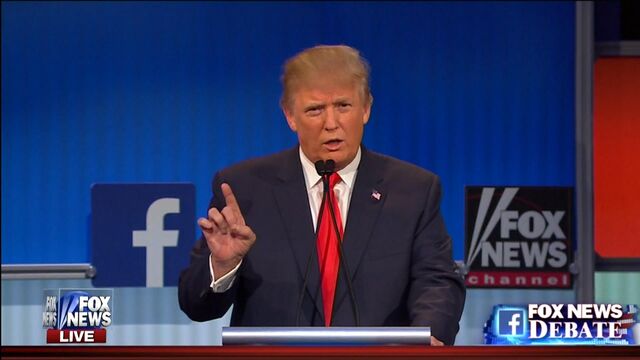 In a cluttered evening of debates that featured Donald Trump's trademark bravado, Carly Fiorina exceeding expectations at the "kiddie table," and Ohio Governor John Kasich enjoying the loudest applause lines, the Republican candidate who stood out the most in the minds of many conservatives was Marco Rubio.
The first-term Florida senator looked like he was about to strike out on the first pitch, which was aimed at his inexperience, but he hit it out of the park.
"If this election is a resume competition, then Hillary Clinton's gonna be the next president," Rubio said here in Cleveland at the first Republican presidential debate of 2016, insisting that the election had "better be about the future, not the past."
Also on Bloomberg Politics: The 5 Most Important Takeaways From the First Debate of 2016
"If I'm our nominee, how is Hillary Clinton gonna lecture me about living paycheck to paycheck? I was raised paycheck to paycheck. How is she—how is she gonna lecture me—how is she gonna lecture me about student loans? I owed over $100,000 just four years ago," he said.
The crowd ate it up. Nominating a candidate who can defeat Clinton, the Democratic front-runner, is seen as paramount among many Republican voters, and Rubio made a more compelling case than his rivals, many conservatives say. In most ways, the debate was the Donald Trump Show, but Rubio left an impression.
"Marco Rubio did very, very well with the limited time he had," said Rory Cooper, a Republican strategist who is unaffiliated with a 2016 contender. Chunks of the debate were "focused on the reality television star," he lamented.
Also on Bloomberg Politics: Foreign Policy One of Few Debate Topics Trump Didn't Dominate
Several conservative pundits declared Rubio the winner, including Stephen Hayes of the Weekly Standard and Matthew Continetti of the Free Beacon. "He made the most of each question, demonstrating not only a grasp of detail but also an ability to deliver his views cogently and succinctly," Continetti wrote.
Syndicated columnist Charles Krauthammer said on Fox that Rubio's personal story was "the best expression of his campaign, and was the best way to take on Hillary."
The 44-year-old Floridian, the son of a bartender and hotel maid who emigrated from Cuba, is struggling in recent polls, falling well outside the top three recently and falling as low as eighth place in a NBC/Wall Street Journal survey last week. Yet he's seen by many Democratic strategists as the most challenging Republican opponent for Clinton in a general election. He presents a fresh face that reflects a changing country and a generational contrast that voters embraced with Barack Obama, Bill Clinton, and John F. Kennedy. And his Hispanic background will be no small asset in swing states like Colorado, Nevada, and his home state of Florida.
Watch: All the Ways They Tried to Outshine Trump
Rubio also sought to morph his relative inexperience, particularly on an executive level, into a strength, while sidestepping his other major vulnerability with the right: his attempt in 2013 to pass immigration reform with a path to citizenship for people in the U.S. illegally. "People are frustrated. This is the most generous country in the world when it comes to immigration," he said. "We feel like despite our generosity, we're being taken advantage of." He also called for a border fence.
Rubio demonstrated a discipline on the stage by hewing closely to his talking points on the campaign trail—about an economy immutably changed by globalization and technology, and no fewer than three references to the "21st century" and more to making it a "new American century."
The one issue that tripped up Rubio was abortion. Fox moderator Megyn Kelly asked why he supports exceptions for rape and incest, and he said "I have never advocated" for those exceptions. He cosponsored anti-abortion bills in 2011 and 2013 that included rape and incest exceptions. On CNN Friday morning, he tried to have it both ways. "I never said that I will only support a bill that has an exception in it," Rubio said. "But I will support bill that have exceptions in it because they prevent abortions."
Also on Bloomberg Politics: Fox Debate Questions Make Good TV, at Some Candidates' Expense
As far as Republicans are concerned, Rubio's trip-up didn't seem to garner blowback in the hours of the debate. Among Democrats, his overall performance was a reminder of why he concerns them.
Dan Pfeiffer, a former senior adviser to President Barack Obama, also pronounced Rubio the winner. "On a night of very uneven performances, Rubio showed flashes of why Democrats fear him most," Pfeiffer wrote for CNN. "He has had a tough few months, losing a lot of altitude and momentum, and basically disappearing from the discussion, but he gave Republicans a reason to remember his name tonight."